Hello beauties!
Spring 2015 is going to be a busy season in makeup especially for Chanel as the brand reformulates its Rouge Coco Lipstick line. With two makeup collections waiting to be launched (Chanel Reverie Parisienne and Chanel Pearl Whitening) the surprises don't stop here and I'm sure Chanel fans are loving every news of the upcoming makeup items and are craving for more. Lipstick lovers will be enchanted to find out the collection offers 29 new shades in 6 colour palettes (Nudes, Oranges, Pinks, Rosewoods, Reds and Plums), each named after the friends, loves and muses of Mademoiselle Chanel. So if you are looking for a new lipstick this spring, Chanel 2015 Rouge Coco Line is definitely one you shouldn't miss.
The formula is entirely revamped for even more gentleness, comfort, radiance and melt-away quality. Integrating their new Hydraboost complex, the lipstick leaves lips with a supple, comfortable veil of hydration which deeply nourishes and plumps lips. The formula also allows for build able coverage, with a natural effect with just a single stroke or two strokes or more for even bolder color.
Availability
U.S. Launch Date – 2 March 2015 at Chanel counters and online @chanel.com
Chanel Reformulated Rouge Coco Lipstick for Spring 2015
Nudes
Nº400 Louise
Nº402 Adrienne
Nº404 Julia
Nº406 Antoinette
Nº408 Jeanne
Oranges
Nº410 Catherine
Nº412 Téhéran
Nº414 Sari Doré
Nº416 Coco
Nº418 Misia
Pinks
Nº420 Vera
Nº422 Olga
Nº424 Edith
Nº436 Roussy
Nº428 Légende
Nº430 Marie
Rosewoods
Nº432 Cécile
Nº434 Mademoiselle
Nº436 Maggy
Nº438 Suzanne
Reds
Nº440 Arthur
Nº442 Dimitri
Nº444 Gabrielle
Nº446 Etienne
Plums
Nº448 Elise
Nº450 Ina
Nº452 Emilienne
Nº454 Jean
Nº456 Erik
Enjoy more photos…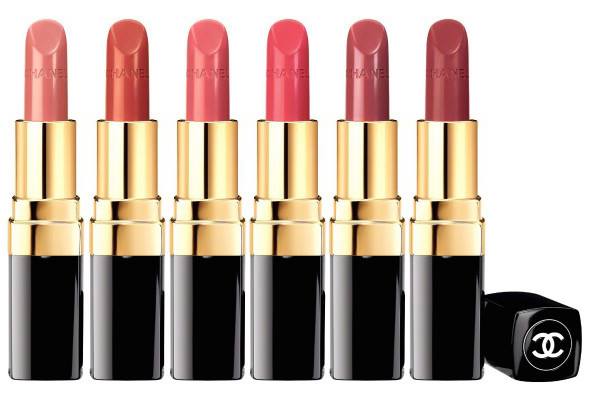 If you are curious to know what's in line for the hot season, I invite you to take a peek at Chanel Mediterranee Summer 2015 Collection.