Hello sweeties!
Inspired by the blue Riviera sky the new Chanel Mediterranee Collection for summer 2015 brings new products to our attention and even though I shared with you a few promo images a couple of days ago I want now to give you a full disclosure of this collection along with all the beautiful photos. The Riviera of the Roaring Twenties was a favorite destination of Gabrielle Chanel and only by looking at the images I want that summer will come earlier and I can already imagine myself sipping a fruity cocktail while I'm relaxing on the beach under the hot sun. Skin tanned, casual style and a vibrant collection immersed in azure blue and infused with light. I shall post a preview with personal close-up photos and swatches along with my first impression as soon as I get to see the new Chanel Mediterrannee summer 2015 collection in person in a couple of weeks.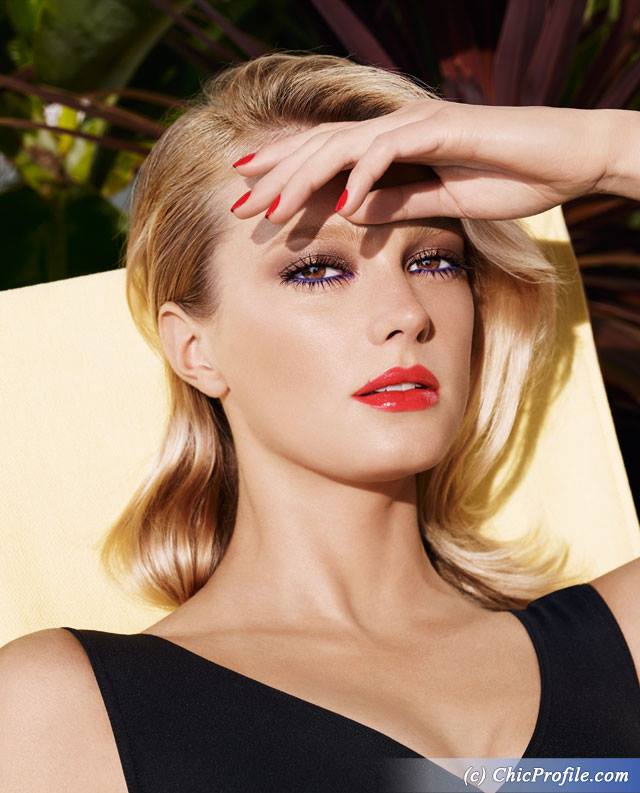 Sun-kissed colours take on more intensity and glow with luminosity to enhance a naturally golden face. Carefree elegance: the spirit of beauty by CHANEL has inspired the must-have accessory of the collection. Applied in a single sweep, Stylo Eyeshadow delivers a fresh hue and traces Riviera-coloured eyes. On eyelids and nails, the colour palette honors the blues, olive greens and browns of the sunny shores before ending on an intense violet note. From soft pink to vermilion, a shiny lipstick dresses the smile in radiance and lightness. For the final touch, a powder with delicate golden shimmers sets off a natural complexion with a radiant effect.
Availability
Romania Launch Date – 15 April 2015
U.S. Launch Date – 8 May 2015
Japan Launch Date – 22 May 2015
Chanel Méditerranée Summer 2015 Collection
Lumière d'Été Bronzing Powder – Limited Edition – $65.00
A pure complexion, beautifully bronzed by sunbeams. This is how one might picture elegant women discovering the Riviera
of the Roaring Twenties. Tanned skin embellishes bodies and faces. And a new, more natural way of being comes into play.
Embossed with a camellia flower on its surface, the LUMIÈRE D'ÉTÈ exclusive creation celebrates the spirit of freedom that reigns over summer. This illuminating powder is swept lightly over the face, enhancing a natural complexion with golden shimmers and a satiny finish. The skin glows in just a few strokes. The cheekbones and décolleté glimmer as they catch the light.
Soleil Tan de Chanel Sheer Illuminating Fluid – $48.00
Sunkissed / Golden (Repromote)
Stylo Eyeshadow Fresh Effect Eyeshadow – Limited Edition – $34.00
The travel-friendly STYLO EYESHADOW is the ultimate summer accessory. The CHANEL Makeup Creation Studio creates an irresistible eyeshadow in a compact and easy-to-use pen format. It is applied in one single sweep and slips easily into a handbag. STYLO EYESHADOW is a comfortable and creamy eyeshadow that glides on perfectly. Formulated with a high concentration of water, its texture provides an instantly fresh sensation. Its pen tip allows for precise, adjustable colour on the eyelids in a dense monochrome, a sheer halo or a thin line. Its radiant, long-wear texture lights up the eyes with varying satin finishes.
#107 Campanule – violet with blue shimmers
#117 Azulejo – turquoise blue
#127 Laurier Rose – golden powder pink
#137 Olivine – slighty satiny olive green
#147 Caroube – warm brown
Stylo Yeux Waterproof Longlasting Eyeliner – $32.00
#997 Orchidee – intense vivid violet (Limited Edition)
Le Volume de Chanel Waterproof Mascara – $32.00
Noir / Black (Repromote)
Burn / Brown (Repromote)
Rouge Coco Shine Hydrating Sheer Lipshine – $36.00
#477 Rêveuse – delicate golden pink
#487 Amorosa – sun-kissed copper brown (Limited Edition)
#517 Intrépide – vivid pink touched with soft gold
#508 Insoumise – coral red
Levres Scintillantes Glossimer  – $30.00
#447 Rose Paradis – intense pink with blue shimmers
#457 Allegria – striking red (Limited Edition)
Rouge Coco Hydrating Creme Lip Colour – $36.00
Arthur / Luminous Red (Repromote)
Rouge Coco Baume Hydrating Conditioning Lip Balm – Repromote – $36.00
Le Vernis – $27.00
#697 Terrana – chocolate brown with pink shimmers (Limited Edition)
#707 Méditerranée – pure, deep ocean blue
#717 Coquelicot – luminous vermilion red
#727 Lavanda  – intense vivid violet
Enjoy more photos…