Hello pretties!
Bobbi Brown returns with her University Lip and Eye Palettes. The new Bobbi Brown University Lip Palette features 10 original Lip Colors and two shimmers and bright and bold colors while Bobbi Brown University Eye Palette includes 12 multitexture shades inspired by the professional shadow sets used by Bobbi and her top artists backstage.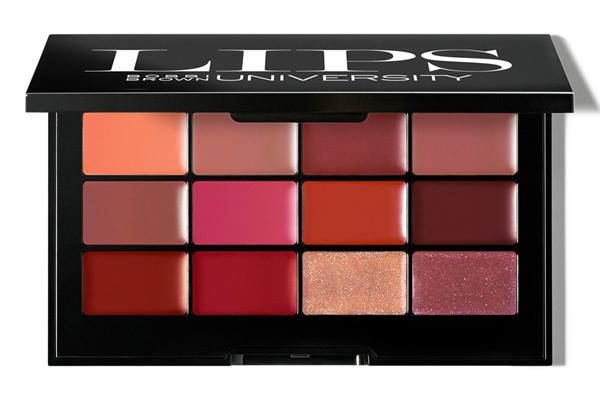 Availability
U.S. Launch Date – Now at Nordstrom
Bobbi Brown University Lip Palette – $60.00
With a creamy feel and semi-matte finish, Bobbi's Lip Color instantly delivers comfortable, rich color and gorgeous polish. The nondrying formula moisturizes your lips, too, with vitamins E and C and beeswax, and the shimmer shades offer the same buttery feel and lasting wear but with a subtle, light-reflecting pearl finish.
Shades:
Salmon (pale peach)
Beige (light warm beige)
Raisin (rich, plum brown)
Brown (medium pink brown)
Rose (medium rose)
Pink (bright pink)
Orange (pumpkin orange)
Blackberry (chocolate berry)
Burnt Red (brick red)
Red (fire-engine red)
Beige Gold Shimmer (pale golden beige)
Berry Shimmer (neutral pink)
Bobbi Brown University Eye Palette – $60.00
Each eyeshadow features a super-smooth, densely pigmented formula. The matte shadows blend easily, stay color-true and won't crease, flake or fade, while the metallic shadows deliver a high-shimmer, high-pigmented wash to give eyes instant dimension and drama.
Shades:
Ivory (creamy white)
Cream Metallic (creamy beige)
Stone Metallic (beige silvery brown)
Antique Rose (rosy brown)
Birch (rosy brown)
Heather (medium grey violet)
Fog (deep slate grey)
Black Charcoal (blackest grey)
Caviar (black brown)
Black Plum (deep black plum)
Ivy (dark green)
Navy (deep navy blue)