Hello pretties!
This spring Bobbi Brown Cosmetics introduces its first-ever Mask Trio Collection featuring Instant Detox, Skin Nourishing and Radiance Boost. At this point I feel like I need them all, and for sure they are all necessary in a woman's skincare routine. The new Bobbi Brown Masks can be used together, which makes them even more appealing, or individually for a custom rejuvenation regimen.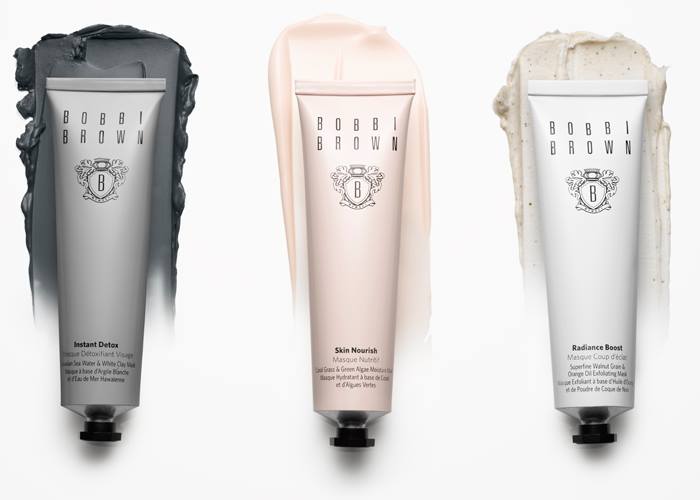 Availability
U.S. Launch Date – Now at Nordstrom, Macy's
Europe Launch Date – February 2016
Bobbi Brown Mask Collection
Bobbi Brown Instant Detox Mask – New – €45.00 / $47.00
Like a deep cleanse for skin, this clarifying clay-based formula helps detoxify skin by deeply penetrating skin's surface to aid the removal of impurities and pollutants, revealing purified, healthier and clearer looking and feeling skin.
Bobbi Brown Skin Nourish Mask – New – €45.00 / $47.00
Enriched with powerful moisture magnets, this super creamy yet lightweight formula helps to instantly quench dry skin with sustained moisturization for a smoother, plumper look.
Bobbi Brown Radiance Boost Mask – New – €45.00 / $47.00
An instant boost for glowing skin, this formula helps to gently smooth, re-texturize and soften skin's appearance to reveal a more even, fresh-faced complexion.
Bobbi Brown Mini Mask Trio – $20.00
Trio includes:
Radiance Boost Mask (0.24 oz.)
Instant Detox Mask (0.24 oz.)
Skin Nourish Mask (0.24 oz.)
Enjoy more photos…