Hello beauties!
No more sneak peeks as the full YSL Sparkle Clash Holiday 2016 Collection has been revealed. At first the brand released back in August a few pieces of this collection, probably just to tease us with the golden sparkling packaging, starting with Star Clash Rouge Pur Couture Lipstick in six shades and continuing with Lumiere Divine Highlighting Finishing Powder Palette. Now the entire collection is complete with the addition of the Face, Cheeks & Eye Palette along with a couple of more items.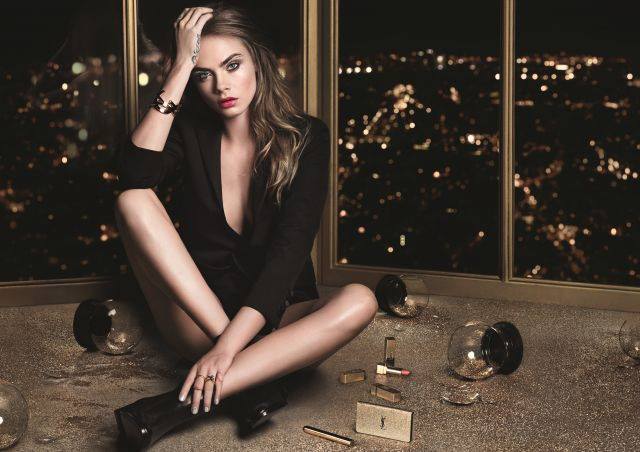 Availability
Japan Launch Date – 28 October 2016
International Launch Date – November 2016
YSL Sparkle Clash Holiday 2016 Collection
YSL Lumiere Divine Highlighting Finishing Powder Palette – New & Limited Edition – $47.00
An illumining finishing powder to highlight your favorite features with radiant shimmer. This lightweight finishing powder is infused with light-reflecting gold shimmer to give skin a luminous glow. Its smooth and silky powder should be applied lightly above the cheekbones, on the bridge of the nose, under the eyebrows, and on the Cupid's bow so that your skin emits enhanced, natural-looking radiance.
YSL Rouge Pur Couture Star Clash Lipstick – Limited Edition – $37.00
A limited-edition Rouge Pur Couture lipstick, dressed for the holidays, with gold and silver sparkles and a bullet embossed with stars. This collector's edition of Rouge Pur Couture features six iconic shades for the season. In one stroke, you'll achieve elegant, rich color that dresses the lips with intense hydration and antioxidant care, leaving lips soft, supple, and smooth.
Shades:
No.1 Le Rouge (Satin)
No.70 Le Nu (Satin)
No.52 Rouge Rose (Satin)
No.19 Le Fuchsia (Review) (Satin)
No.09 Rose Stiletto (Satin)
No.13 Le Orange (Satin)
YSL Multi-Usage Palette Collector Sparkle Clash – Limited Edition – $92.00
It has a gorgeous and festive silver-gold sparkle case with a touch of bling, featuring a pink highlighter / blush, four shimmering eye shadow in plum, bronze, gold and metallic pink and two lip colors in a soft pink and tinted red.
YSL Touche Eclat Strobing Light Highlighter – Limited Edition – $42.00
Volupte Tint-in-Oil – $32.00
La Lacque Couture – Limited Edition – $28.00
78 Gold Clash
79 Silver Clash
Enjoy more photos…