Hello beauties!
I've been craving a first look at YSL Holiday 2016 Palete since I saw the new YSL Holiday 2016 Clash Lipsticks and Lumiere Divine Powder (info, photos) with that gorgeous, festive golden-sparkle packaging. Since the previous edition of YSL Kiss & Love Holiday 2015 Palette (review, swatches) impressed me only with the packaging and not so much with the choice of colors and formulas, I was really looking forward to seeing this year's edition.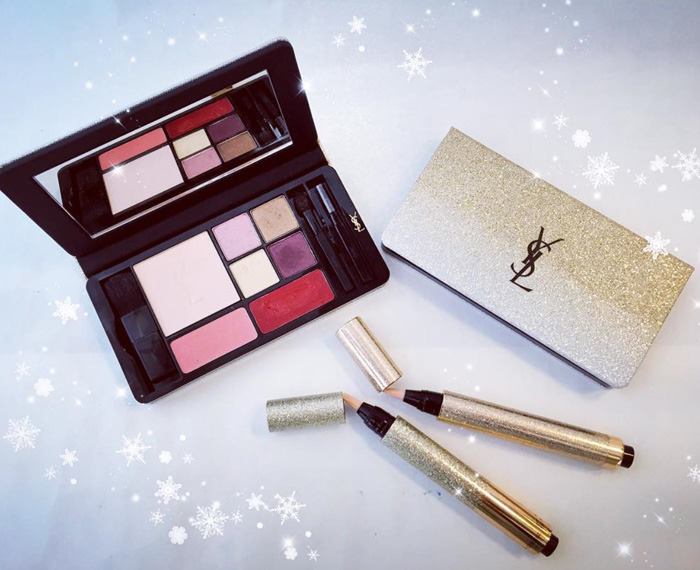 Availability
Japan Launch Date – 28 October 2016
YSL Holiday 2016 Collection
Looks like YSL Holiday 2016 Palette will feature the same products like the last year's version, and I mean two lip colors, four eyeshadows, one blush and two mini brush applicators…only the colors and the arrangement inside the palette is a bit different. At a first look, I tend to like this combination of shades better since I spotted purple and pink shades but it will all depend on the the quality as well.
Now moving on to the rest of YSL Christmas 2016 offerings, I bet you already know about the six new shades of YSL Rouge Pur Couture Star Clash Lipsticks ($37.00) and Lumiere Divine Highlighting Finishing Powder Palette ($47.00) as not that I blogged about them a few weeks ago, but they are available now in the U.S.
This collection surely may vary from country to country and not all the items will be available everywhere, but nonetheless I still like to see the full picture. So it may happens that in Japan only five out of six shades may arrive, along with four color of Rouge Volupte, two shades of YSL Baby Doll Kiss & Blush, two limited edition Lacquer Couture shade in Silver Clash and Gold Clash, plus a Volupte Tint-in-Oil in a pink shade.
So far, so fun I'd say…but hey that's me a pink lover who is crazy about this kind of shades ranging from bright fuchsia to subtle rosy tones. How about you lovelies?