Hello pretties!
If you haven't heard of Urban Decay Ozone 24/7 Glide-On Lip Pencil you don't know what you've been missing. Since I got it a few weeks ago I've been working this lip pencil almost everyday now with different lip colors and honestly it's more than just an ordinary lip pencil.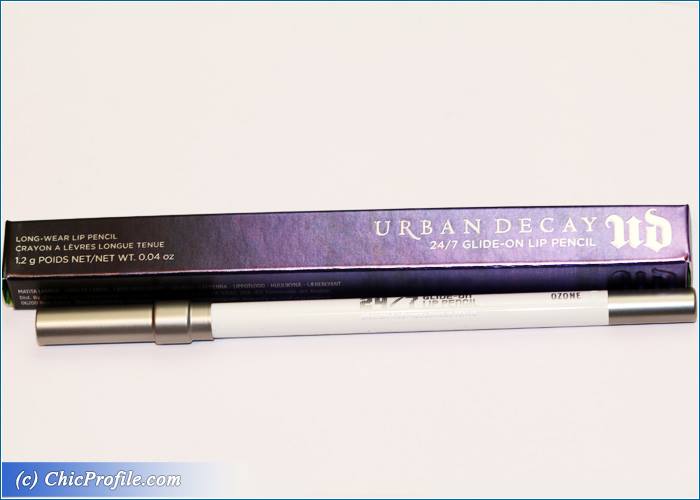 Where to buy:
Romania – September 2016 exclusively at Sephora in Vitan, Baneasa, Promenada, Feeria, Afi Palace Cotroceni, Magheru and @sephora.ro
U.S. – Now at Sephora, Nordstrom, Macy's, ULTA, @urbandecay.com, @beauty.com
UK – Now at House of Fraser, John Lewis, Harvey Nichols
Urban Decay Ozone 24/7 Glide-On Lip Pencil ($20.00 / £13.50 / €19.50 / 92.00 Lei for 1.2 g / 0.004 oz) is a colourless, clear lip pencil. It's officially stated as Urban Decay's best-selling shade and if you are wondering how a clear lip color can make it to the top then this is why.
It comes as a slim lip pencil which needs to be sharpen and its silver cap closes to tight that makes it hard to open it at first. It's definitely a travel friendly product as the cap won't open so easily in your bag.
Urban Decay Ozone clear lip color is best friend with any lipstick color out there. In case you don't have a matching lip liner for your lip color, you should know that Ozone goes and can be used every single time.
It doubles also as a lip primer, applied all over the lip to keep the color in place and prevent feathering. It's a multipurpose pencil, being able to correct mistakes, giving you a crisp lip line. It works wonders in filling in fine lines which I find especially helpful when I'm applying matte lip colors. Urban Decay released Ultimate Ozone Multipurpose Primer Pencil ($18.00) inspired by Ozone 24/7 Glide-On Lip Pencil right here.
It's such a soft pencil, gliding effortlessly across the lips, with a moisturizing feel and a light weight wax texture.
This makes it multipurpose useful to utilize it with any lipstick for which you don't have a perfect match of lip liner. Urban Decay defines its 24/7 Glide- On Lip Pencils as two-in-one lip liners and lip primers. The claim is definitely cent percent true. If you take a look at product description, it it is in itself a brief review. That again, written without exaggeration. Urban Decay Ozone is a soft pencil, with moisturizing feel and texture like light weight wax.
It feels lightweight and comfortable on the lips at all times, thatnks to Jojoba oil that nourishes the skin and ensure a smooth application.
Enjoy more photos…