Hello pretties!
Over the past few weeks I've been trying to expand my Urban Decay Vice Lipstick Collection so I went shopping for new shades. I was aiming for a new hot pink and something more down to earth, a nude that would be wearable during the day. When I stopped by Sephora, I noticed that some of the shades I had on my list were sold out so I decided to try on Urban Decay Conspiracy Vice Lipstick with a metallic finish, one that would be new to my collection. I instantly fall in love with the color which you must admit is kinda special, since I don't get to see a lot of brown shades like this everyday. 🙂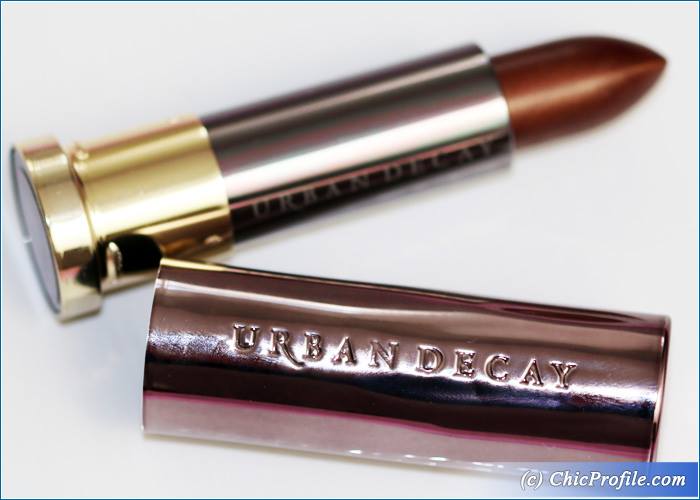 Where to buy:
Romania – September 2016 exclusively at Sephora in Vitan, Baneasa, Promenada, Feeria, Afi Palace Cotroceni, Magheru and @sephora.ro
U.S. – Now at Sephora, Nordstrom, Macy's, ULTA, @urbandecay.com, @beauty.com
UK – Now at House of Fraser, John Lewis, Harvey Nichols
Urban Decay Conspiracy Vice Lipstick ($17.00 / €19.00 /£15.00 / 98.00 lei for 3.4 g/ 0.11 oz.) is officially described as a plum-bronze shimmer with a metallized finish. I see it as a deep reddish-brown with warm undertones and a lot of fine, copper and gold pearl which gives it that metallic sheen.It had a good color payoff, being almost opaque on the lips in one swipe. I personally preferred to apply a second layer of lipstick to give it a more intense look and make sure to accentuate the center of my lips so they'd pick up so more of that copper pearl.
It has a thinner consistency but it does glide effortlessly across the lips without tugging. I absolutely like the metallized finish which is a bit shimmery so to say and makes this color look special. As I was saying in the beginning I was actually aiming for a nude color, something with a creamy finish but since at that Sephora counter most shades were sold out, I stumble upon Conspiracy which is indeed a more special shade.
You can see me wearing this shade in my latest makeup tutorial and let me know what do you think. I prefer wearing UD Conspiracy mostly during the evening and pair it with a more sophisticated makeup look.
Wearing this shade on my lips was a nice experience, it felt emollient but without having such a creamy texture like UD Vice Lipsticks with a cream finish. It was comfortable and felt lightly hydrating throughout the wear without leaving any stain behind.
I had around five hours wear with this formula while I had a light meal and a few drinks.
Enjoy more photos…