Hello pretties!
Jerrod Blandino is making the Internet going crazy as he keeps leaking sneak peek photos on his Instagram of what it looks like an upcoming Too Faced Peach Spring 2017 Collection. We are all aware of the huge success Too Faced Sweet Peach Eyeshadow Palette had last year when it hit counters just in time for holiday season, as it became the best-selling Too Faced eyeshadow palette. If you didn't get your hands on this best-selling peachy palette you'll have a second chance later this year as Too Faced announced its comeback somewhere in late fall, just before Christmas. Judging by that experience, creating a new makeup collection based on the juicy fruit and with products that will be peachy scented, is an absolutely irresistible idea, one that will surely dig a hole in our pockets. Just like I posted the other day on Instagram, it surely looks that we'll be indulging in a Too Faced Papa Don't Peach Blush along with a Too Faced Sweet Peach Glow, a new peachy infused highlighting palette.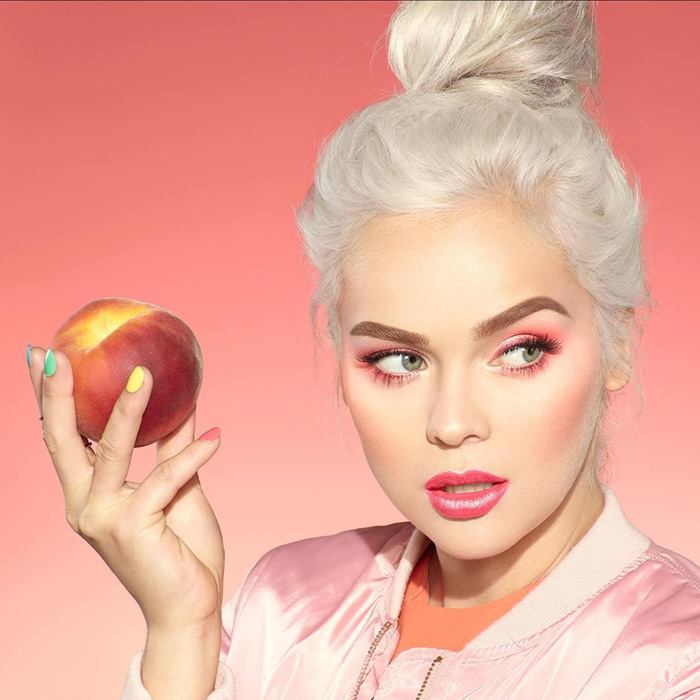 Availability
U.S. Launch Date – November / December 2016
Too Faced Peach Spring 2017 Collection
So here's everything I know so far about Too Faced Peach Spring 2017 Collection after I pieced the info together, joined by the latest photos going around on social media. Too Faced might just be getting peachy with Hannah Glasby, Ford model, and feature her as the face for the new collection? I'd surely love that and seeing that Jerrod already posted a "work in progress photo" with her a few weeks ago gives me high hopes.
Too Faced Papa Don't Peach Blusher is a fact already, absolutely filled with cuteness and looking irresistible to me. When I actually heard about a Too Faced Sweet Peach Glow Palette being created as well, meaning some peachy infused highlighting shades and later on seeing what it looks like…I'm thinking I should skip Too Faced Holiday 2016 Collection and start saving for spring as I'm definitely into this collection.
I can't wait to see the entire Too Faced Peach makeup collection and I'm keeping my fingers crossed that there will be more products joining in, as I'd love some lippies or peach scented lipsticks.
Enjoy more photos…