Hello cuties!
Too Faced Peaches and Cream Fall 2017 Collection is as cute as can be. All the products are infused with the sweetness of the peach scent and come in the super adorable peach-themed packaging. Some of the products will be part of the permanent collection which is going to get bigger and bigger every season. Let's take a first look right after the cut.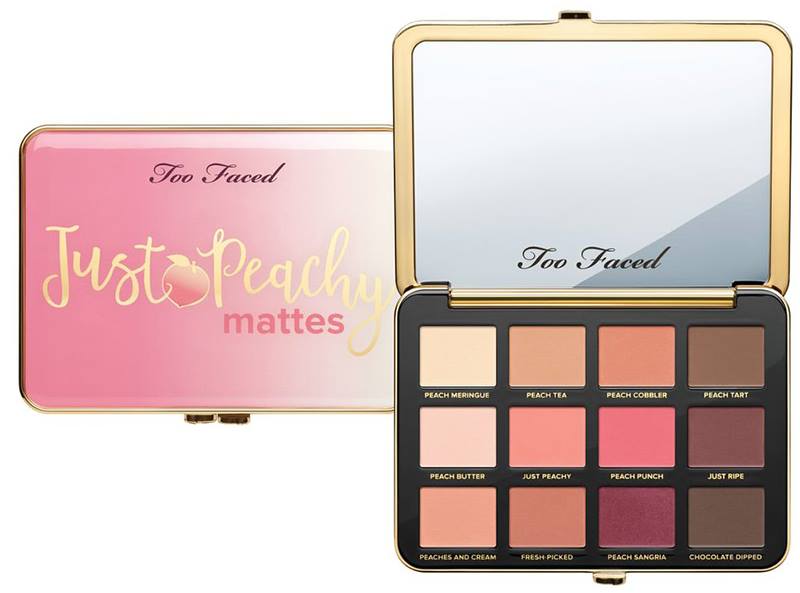 Availability
U.S. Launch Date – 28 August 2017 exclusively at Sephora | 1 September 2017 at Too Faced
Canada Launch Date – September 2017
Too Faced Fall 2017 Peaches and Cream Collection
The palette which is infused with peach juicy scent and and antioxidant-rich essence of peach, features 12 matte finish eyeshadows in warm tones.
This palette contains:
12 x Eyeshadow in Peach Meringue (ivory), Peach Tea (caramel), Peach Cobbler (toasted peach), Peach Tart (deep brown), Peach Butter (peach cream), Just Peachy (matte peach), Peach Punch (peach daiquiri), Just Ripe (spiced plum), Peaches and Cream (peach sherbet), Fresh-Picked (ginger peach), Peach Sangria (wine), Chocolate Dipped (smoky brown)
After School Special
Breakfast Club
Butterfly
Doll Face
Drunk Dial
Everything Is Peachy
Got Peach
He's With Me
I Think Pink
Love Is a Battelfield
Make Me Blush
Makeup Me Happy
Muy Caliente
Peach Beach
Pink With a Wink
Sex on The Peach
Stop Traffic
Sunday Funday
Sure Thing
Where My Peaches At
This solid, creamy blush has a powdery finish and will be available in a variety of six shades. The texture is creamy, while the formula is infused with Italian Sweet Fig Cream and Juicy Peach extracts.
This easy-to-use, cream-to-powder highlighter illuminates skin while delivering buildable, blendable color for a radiant-matte finish.
Will be available in a single color with a cream-to-powder formula that will give you that summer sun-kissed look.
Oh, I've been waiting for this matte bronzer for a while now. I've seen so many sneak peek photos and I can't wait to get my hands on it. It combines bronze, golden tan, toasty champagne and peachy pink that will give my skin that healthy radiance look.
Available in one universal translucent color, this powder will gently smooth out fine lines and blur imperfections in just seconds.
Primed and Peachy Cooling Matte Perfecting Primer – $32.00
Infused with peach and sweet fig cream, this new matte face primer preps your skin for makeup application.
Available in 12 long-wearing shades with a long lasting formula that promises up to 14 hours wear and a matte finish.
Warm Beige – medium w/ neutral undertones
Snow – fairest w/ rosy undertones
Porcelain – fair w/ rosy undertones
Vanilla – very light w/ neutral undertones
Nude – light w/ rosy undertones
Warm Nude – light w/ golden undertones
Light Beige – light w/ neutral undertones
Natural Beige – light medium w/ neutral undertones
Sand – medium w/ golden undertones
Honey – tan w/ rosy undertones
Mocha – deep tan w/ golden undertones
Mahogany – deep w/ rosy undertones
Comes in one universal shade and mattifies your complexion while giving your skin a peach radiance.
To set your makeup in place you'll definitely this peach-infused setting spray as the last step in your makeup application.
SHOP THIS POST
Enjoy more photos…