Hello beauties!
The sun is shining, temperatures are rising and all I can think about is a summer escape to an exotic resort. I dunno who anyone can think of fall right now but here it goes…Too Faced Fall 2017 Collection that just launched online. Apart from the new products, Born This Way Foundation and Concealer are getting six new shades, each. Do check them out right after the jump!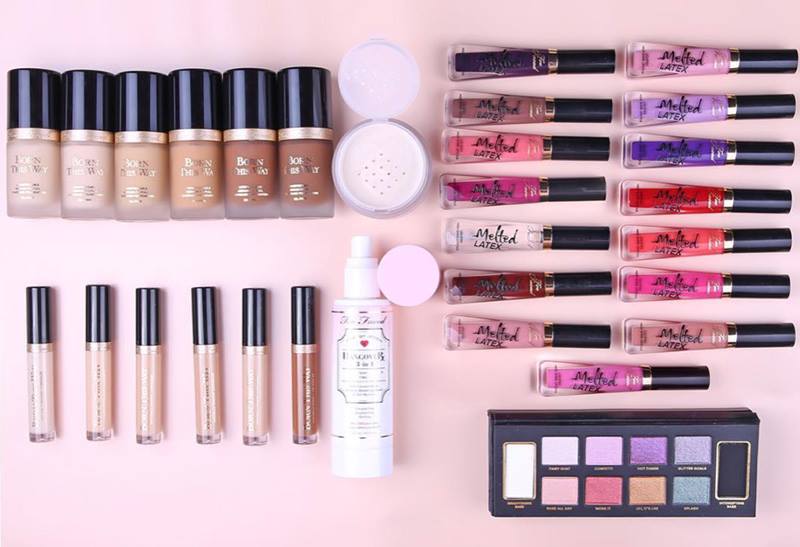 Availability
U.S. Launch Date – Now exclusively at Too Faced | August 2017 at Sephora
UK Launch Date – Now at Too Faced
Too Faced Fall 2017 Makeup Collection
The glitters in this palette can be transformed into different textures and finishes to help you create limitless looks. Use the white and black matte bases to brighten or intensify the glitters, or apply them wet for a liquid crystal-like finish. These eight glitter eyeshadows plus black and white matte base shades that can be applied wet or dry. This palette of rich, multidimensional shadows offer true color payoff, and the Step-by-step How-to Glamour Guide features four looks to get you started. Includes 8 brand new shimmery, glitter eye shadows plus black and white matte base shades that can be used wet or dry.
Shades:
Fairy Dust – silver
Confetti – baby pink
Hot Damn! – warm purple
Glitter Goals – lavender
Rose All Day – rose
Work It – hot pink
Oh, It's On! – gold
Splash – navy
Brightening Base – matte white
Intensifying Base – matte black
Too Faced Co-founder and Chief Creative Officer Jerrod Blandino was inspired by  original Hangover, our revolutionary coconut-water infused makeup primer. He wanted to create a formula with the same priming and hydrating benefits you love in a multitasking mist that can also be used after makeup to set it in place or anytime to refresh skin. Spray all day to keep the beauty hangover away!
Using exclusive technology that keeps high-shine lipsticks liquid, Melted Latex redefines the lips with honey-like texture that ensures gloss clings to lips with a latex shine. Doe-foot applicator comfortably coats lips in bursts of intense, buildable, lacquered color that lasts for hours.
Hopeless Romantic
Peekaboo
Safe Word
Love You Long Time
But First, Lipstick
Hot Mess
Love U, Mean It
Rated R
I'm Bossy
Bite Me
Strange Love
Can't Touch This
Bye Felicia
Twilight Zone
Unicorn Tears
Girl on Top
The inspiration behind Born This Way came from one of Jerrod's favorite movies about bridesmaids. In the opening scene, the lead actress wakes up, rushes to the bathroom to put on her makeup, and sneaks back into bed to imply…"I woke up like this." It's all the coverage you want without seeing the makeup.
Born This Way is an oil-free foundation that masterfully diffuses the line between makeup and skin. For coverage so undetectable, you can't see the makeup and you can't see imperfections—all that's left is naturally radiant skin that looks like you were Born This Way.
Swan (New)
Almond (New)
Golden Beige (New)
Warm Sand (New)
Hazelnut (New)
Cocoa (New)
Fairest (New)
Light Nude (New)
Medium Nude (New)
Cool Medium (New)
Warm Medium (New)
Very Deep (New)
SHOP THIS POST
Enjoy more photos…