Hello sweeties!
Would you look at the new Tom Ford Soleil Collection for summer 2015?! It's features just the right summer makeup products and the shades of nude and rose with those beautiful warm and metallic finishes are right up my alley. I can't help staring at the gorgeous Tom Ford Pink Glow Eye & Cheek Palette as it is truly an exotic makeup palette featuring just the right shades for a sun-kissed makeup look.
The Summer 2015 Tom Ford Soleil Collection captures the warmth and sensuality of summer skin. Eyes smolder in burnished, sun-kissed tones or metallic shades of aqua and storm. Cheeks glow with luminous warmth and lips are saturated with sheer shades of nude and rose. Completing the irresistible effect, Tom Ford Shimmering Body Oil veils the skin in golden light and a fragrance that evokes the erotic pleasure of sand, sea and sun.
Availability
U.S. Launch Date – pre-order now online @bloomingdales.com | May 2015 at Tom Ford counters
UK Launch Date – 27 April 2015 at House of Fraser (@houseoffraser.co.uk) and online at various department stores
International Launch Date – May 2015 at Tom Ford counters
Tom Ford Soleil Collection Summer 2015
Soleil Eye & Cheek Compact Palette – New & Limited Edition – $95.00 / £68.00
Introducing the new edition of the Tom Ford Eye & Cheek Compact, an exotic palette of summer shades inspired by soft, naked glamour and burnished, sun-touched skin. Eyes are softly smoked in a veil of golden violet while cheeks are highlighted in rose gold and enhanced with vibrant, plum blush. Packaged in a retro-chic, ivory- and gold-colored Tom Ford case.
Soleil Bronzing Powder (Large) – $95.00 / £68.00 | (Small) – $65.00 / £56.00
Tom Ford Bronzing Powder features a silky, lightweight texture with an exclusively formulated mineral blend of sunstone, amber and black tourmaline crystals combined with unique pigments to flawlessly highlight your skin's natural radiance. Presented in an ivory- and gold-colored compact.
Shimmering Body Oil –  Limited Edition – $70.00 / £68.00
Tom Ford Shimmering Body Oil captures the sultry effect of sun-kissed summer skin and tempts the senses with a fragrance of scorching sensuality. This silky and lightweight oil illuminates the skin with shimmers of gold and platinum leaf. The captivating fragrance wraps a bouquet of white florals in a golden, amber-sandalwood embrace—as tempting as a white-sand beach, as irresistible as the perfect tan.
Cream Cheek Colour – Limited Edition – $65.00 / £46.00
Tom Ford Cream Cheek Color instantly brightens the face for a healthy glow and a natural burst of color. The pearlized, peach-pink shade gives cheeks gorgeous luster and a stunning radiant finish. Packaged in an ivory- and gold-colored Tom Ford compact.
Cream & Powder Eye Color – Limited Edition – $60.00 / £46.00
This two-tiered eye color pairs two coveted formulas in one to create a lustrous and sexy summertime eye. The ultra-pigmented, metallic cream shadow glides onto lids with a rich, molten glow and the sparkling celestial powder intensifies the look with alluring shimmer.
Black Oyster
Golden Peach
Midnight Sea
Naked Bronze
Lip Color Sheer – $50.00 / £37.00
Lip Color Sheer delivers a lustrous sheen of color that complements sun-kissed, summer skin. A decadent mix of vitamins C and E and shea butter helps lavish the lips with saturated moisture. The distinct, beveled Lip Color Sheer bullet is packaged in a retro-chic, ivory- and gold-colored Tom Ford case.
Paradise
Rose Soleil
Sweet Spot
Skinnydip
Enjoy more photos…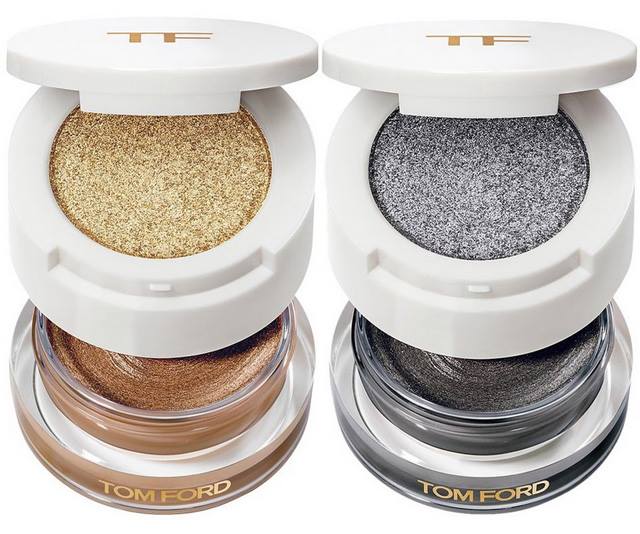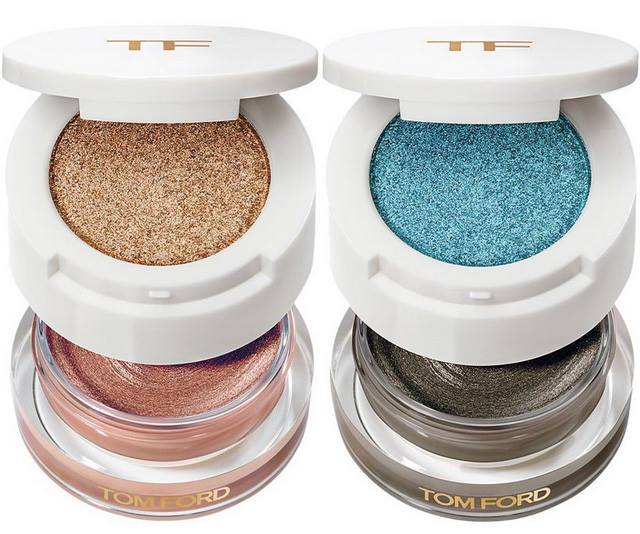 Don't forget about the new launch of Tom Ford Noir Extreme fragrance for men.