Hello beauties!
It's been a little over a month now since I've been using Swiss line Force Vitale Aqua Vitale Cream 24 (preview, photos) and I can share my entire experience and the results. Like I said in my preview, when I received this cream for testing and review purposes, this is a brand new product and it was actually launched last month so I'm happy to have been able to use it right before it appeared on the market.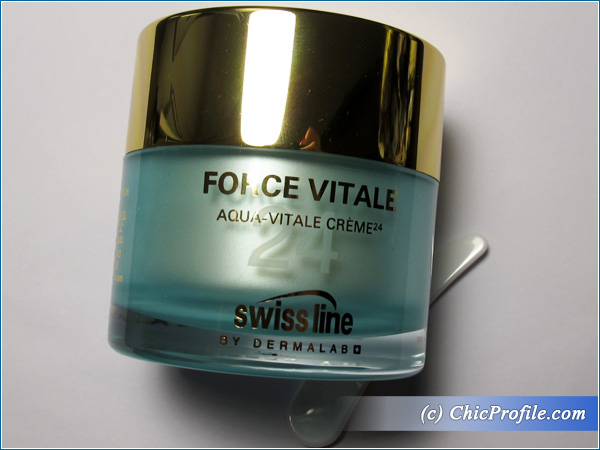 Availability
International Launch Date – Now at Swiss line counters, select beauty shops and online @shopswissline.com
If you've been following my blog for a while I'm sure you know skincare routine is sacred for me and I don't like testing and using just any kind of skincare products. I know I'm being judged for loving luxury products but who can blame me for wanting the best results for my skin and when I see that a product is working and I have great results then why change it.
I introduced Swiss line products in my skincare routine for almost a year now and I love most of them (I don't use the ones with a rich consistency because they are not suitable for my skin type) so I felt quite confident when I got their new Force Vitale Aqua Vitale Cream 24 (145.80 CHF for 50 ml/ 1.7 oz) especially since I've tested products from the same line.
I discussed the luxury packaging in the preview article last month so I will skip directly to what this cream does and what are the results I had so far. It is a face cream with a soft-creamy consistency and can be used day and night over your face and neck. It feels incredibly soft when it is applied and I felt how it instantly moisturized my skin giving me a feeling of comfort and toning.
The cream is meant to be used by everyone regardless their skin condition but I have a sensitive and combination skin type and here is what I think of it. I started using it twice a day, morning and evening (without any face serum applied previously) but after a couple of days I decided to keep it just as a night cream. The reason was that even though it felt light and comfortable on the skin, hydrating my complexion and making it soft and healthy looking I started to notice how my T-zone began to shine within an hour and after 2-3 hours became kind of oily too. For me it was not the case of using this cream and then apply a full face makeup as I feel the texture is too rich for me and it made my entire complexion look way to shiny.
I personally use only serums and lotions on daily basis as I feel they have a lighter and fast-absorbing formula which is more suitable for my skin type, so I like to use Swiss line Force Vitale Aqua Vitale Serum 24 (review, photos) in the morning and Force Vitale Aqua Vitale Cream 24 as a night cream.
When I wake up my skin feels so smooth and silky while my complexion looks fresh and toned and I know it has been hydrated and nourished during the night thanks to Force Vitale Aqua Vitale Cream with its 24 different nutrients, vitamins and antioxidants.
This product works best for me as a night cream (especially during the winter months when I need the extra hydration) or as super-hydrating care treatment (I believe it will be great to use it after a day at the beach when my complexion just need to feel hydrated) but using it two times a day is just too much for me. Those with mature skin, dry and normal skin types or anyone who feels worried about comfort of the skin or concerned with dehydration should find that this product really makes a different if it will be use on a daily basis.
I had my mother use this face cream for a couple of days when she visited me and she simply described it as a heavenly cream and said her skin felt amazing using the Aqua Vitale Cream 24 two times a day actually. My mom has a dry skin type so everything that feels too rich for me is perfect for her.
Technology
ALPINE BIO EXTRACTS: a host of concentrated organically grown Swiss Alpine plants: edelweiss, gentian coltsfoot and daisy flower, provide antioxidant, re-mineralizing, purifying and brightening properties.
AQUA-VITALE 24 COMPLEX: 24 different nutrients, including water binding agents, anti-fatigue plant extracts, energy boosters and trace elements promote healthy, replenished and hydrated skin.
Hydration Binders: A blend of salicornia plant extract, sodium hyaluronate, urea and sodium PCA impart excellent short and long term hydration by counteracting the TEWL and TEUL.
Energy Brighteners & Boosters: Chilean tree extract and licorice help lighten and even the complexion while anti-fatigue agents, stabilized vitamins A, C and PP, help to improve the texture and smoothness of the skin. Zinc, copper and magnesium help to stimulate cellular metabolism.
Powerful Antioxidants: Rice and pomegranate extracts with strong anti-free radical properties help to reduce oxidative stress on a cellular level (DNA protection).
Conclusion
If you want to spoil your skin or you need that hydration boost and feeling of comfort or your skin just need to feel moisturized all the time then you should really give this product a try. If you are an oily or combination skin type you may find its texture a bit too creamy and rich for you and your complexion might start to shine 1 hour after the application so you may feel more comfortable using it as a night cream or a hydrating face treatment whenever you feel like. It doesn't have SPF so that's won't thing to keep in mind if you choose to wear it during the day. It didn't irritate my skin or break me out so it's gentle with sensitive skin types as well.
Enjoy more photos…