Hello beauties!
If you are a regular reader you already know that I've taken an interested in Swiss line products, a Swiss luxury skincare brand rivaling La Prairie and over the last 6 months I tested quite a few products from different collections. I can now say that some of these products have become my favorite and I've included them in my skincare routine. There's no secret that I'm in my early 30's and since I was 20 years old I prefered to invest more in skincare products rather than in makeup because I believe the foundation of a flawless makeup look is a great skincare routine.
I know many of you will say that luxury skincare products are not affordable to everyone but I prefer going outside barefaced knowing that I'm using the right products for my skin rather than covering my complexion with makeup. Today I want to talk to you about Swiss line Cell Shock Face Lifting Complex, a product that I've received as a deluxe sample for testing and review purposes and that I've been using it for the past several weeks every time my skin needed.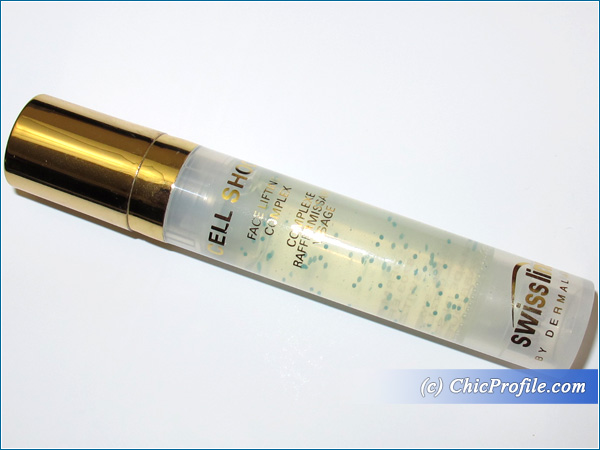 This intensive serum provides a noticeable "face lift" within minutes, visibly reducing wrinkles and making the skin appear toned, resilient and younger. A high concentration of botanical extracts and marine boosters tighten and restructure the skin. Additionally, Hyaluronic acid binds the molecules and hydrates the skin, while Vitamins A and E combat free radical damage. Together with Cellactel 2 Complex, the ingredients form a powerful product.
Availability
International – Now @swissline.net
Romania – Now at BeautySenses, Beautik (Mall Baneasa), Poeme Beauty Shop (Targoviste)
Swiss line Cell Shock Face Lifting Complex ( 675.00 Lei / 199.40 CHF for 30 ml) is suitable for all skin types and conditions but it's ideal for aging skin in need of a lift to improve its resilience. Since I'm in my 30's of course I'm concerned with fine lines and keeping away the first signs of aging therefore I like to rely on skincare products that show an instant result from time to time.
This product comes in a plastic transparent sleek tube with pump and a golden cap. The actual serum seen inside is transparent but it contains these small green particles which are dissolved in the skin once you apply the product. It has the advantage that the bottle is see-through so you can see how much product you have left inside while the pump it gives you just right amount of product for one application. In my case only half a pump is necessary to apply and distribute the serum all over my complexion.
Cell Shock Face Lifting Complex is a face serum with a watery like formula that sinks instantly into the skin (I mean under 3 seconds) providing a visible lifting effect within minutes. I won't say I've been using this product every day now because I haven't and that's not because I have the deluxe sample size (10 ml / 0.34 oz) but because I like to use it only when I feel like I need an immediate result when my skin looks tired, after a night I didn't get to much sleep or on the next day after I've blogged the entire night.
The amazing thing about this Swiss line face lifting serum is that I can always count on it when I want a visible reduction of fine lines, an instant toned, firmer skin with a healthy and fresh appearance. I'm lucky that I don't have wrinkles yet but I let my mother tried this product as well, a couple of times and she noticed a visible reduction of wrinkles within minutes and a younger and firmer skin.
I love the way Cell Shock Face Lifting Complex feels on the skin, it's incredibly lightweight and I love how fast it is absorbed into the skin without feeling oily or sticky, leaving it smooth and so fine to the touch while it delivers a soft matte effect. After applying it I go on with my normal skincare routine and I used Swiss line Force Vitale Aqua Vitale Serum (review & photos) without having for one moment the sensation that my skin is overloaded with products.
I have a combination sensitive skin type and I always react when a product is not suitable for me but it hasn't been the case with Face Lifting Complex. I had no breakouts, irritations or any discomfort. My skin felt hydrated from beginning till end and it didn't appeared greasy or oily. It's recommended to be used twice a day on face, neck and decollete but those with younger skin types can use it occasionally like I do for an instant lift.
Technology
Cellactel 2 Complex: Skin-revitalizing ingredients that help repair essential skin functions, lift and regenerate the skin.
Macro Encapsulated Green Unispheres: Releases Vitamins A,C and E when the serum is applied to the skin.
Polysaccharides of marine origin (Macrocytis Pyrifera Extract): Provides immediate and sustained facial tightening.
Polylift™: New botanical tensor (network of polymerized sweet almond oil and proteins) that forms an elastic film on the surface of the skin improving the micro-relief and smoothing of attenuating lines and wrinkles.
Hydrolyzed Soy Flour (Raffermine™): Extracted from plant membranes, this agent acts as an excellent booster for the contraction and reorganization of the collagen fibers.
Hydrolyzed Lupine Protein: Helps protein synthesis and prevents dehydration.
Moist 24™: A hydroglycolic extract of the Imperata Cylindrica (Red Baron) plant. Unique moisturizing complex that actively helps maintain the osmotic equilibrium of cells.
Hyaluronic Acid: A naturally occurring polysaccharide (complex sugar), it acts as a "molecular sponge" trapping and holding water up to a thousand times its own weight.
Hydrolized Algin: A humectant and conditioning agent that reduces irritation.
Enjoy more photos…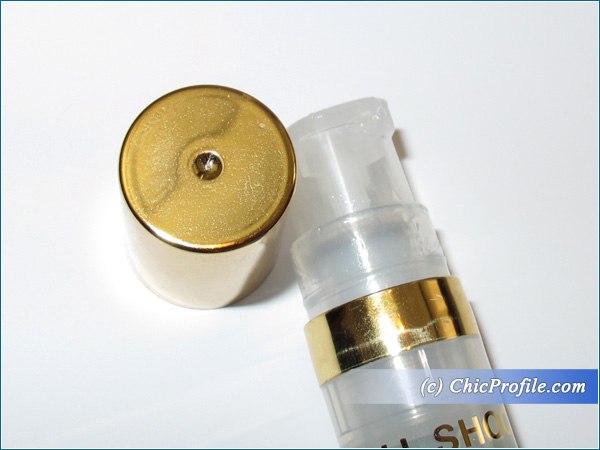 Swiss line Cell Shock Face Lifting Complex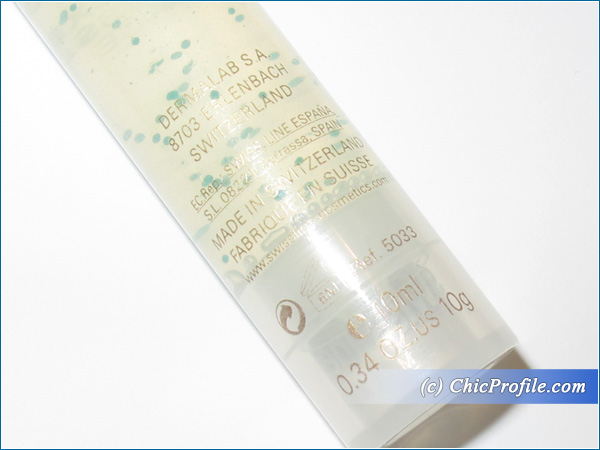 Swiss line Cell Shock Face Lifting Complex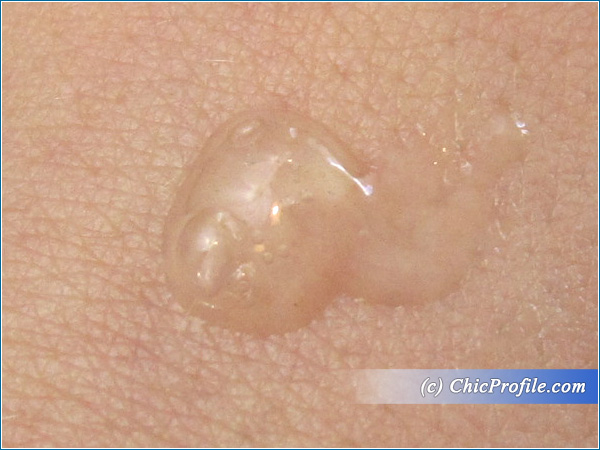 Swiss line Cell Shock Face Lifting Complex – Swatch
I hope this review was helpful for you lovelies and I'm looking forward to reading your impressions about this product or any other Swiss line products that you might have used and even similar products than can be compared with Cell Shock Face Lifting Complex.