Hello beauties!
Today I want to share with you my experience about using Swiss line Cell Shock 360º Anti-Wrinkle Eye Zone Serum, a product recently launched and which I've been using for 2 months now. I've always been a serum girl since my complexion is combination to oily and I prefer using serums and lotions rather than creams. The new Cell Shock 360º Anti-Wrinkle Eye Zone Serum works like any other serum, being very concentrate and meant to be used before your cream or moisturizer and in this case before your eye cream. I also took before and after photos so you can see the results for yourselves.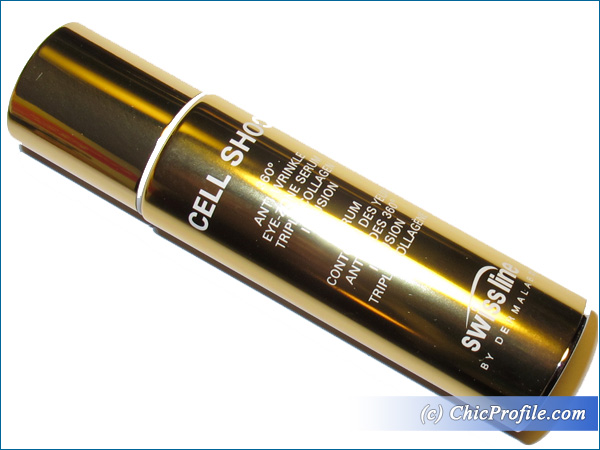 This luxurious eye serum is fortified with wrinkle-filling and smoothing ingredients that work together with targeted actives to combat dark circles and recreate a perfect eye zone. The use of this serum completes the anti-aging action of any eye cream as it brings results to virtual ageless perfection.
Availability
Now @shopswissline.com
Swiss line Cell Shock 360 Anti-Wrinkle Eye Zone Serum (15 ml/ 0.5 oz for 167.40 CHF) is suitable for everyone who has dark circles, orbital lines, wrinkles and particularly for those with dry skin. It can be used at any age and by all skin types, it only depends on you if you feel that your eye zone area needs to start using this type of product. I will say right from the beginning that I received the serum in early February 2014 when it was winter here, a very bad and cold weather but also in a period where I've been lacking sleep. I almost never had problems with dark circles but before I got the eye zone serum I had a couple of months when I slept very chaotic,  mostly during the day and only for a couple of hours. I was really happy and excited to hear about the launch of Cell Shock 360º Anti-Wrinkle Eye Zone Serum and not to mention eager to put it to the test and see the results.
The packaging is luxurious and elegant, the beautiful luscious golden bottle is nothing like I've ever seen so far. The attention to details is incredible as well as the quality of the packaging which I must say looks exactly the same after daily 2 months use. The golden color hasn't faded away or chipped like I usually experienced with similar golden packagin and this shows again the quality of Swiss line products regarding the packaging. It was hard to photograph though due to the mirror-like golden packaging so bellow you will find my best shots. The bottle opens up and the cap has a pipette incorporate for easy usage and the exactly right dosage of product. For me a full pipette lasts me for 3 to 4 applications. On the side of the bottle you will notice a small glass opening where you can see how much product is left inside. I honestly can't find any flaw to this packaging except the fact that it's a bit hard to photograph.
Now moving on to my experience and results of using my new Cell Shock 360º Anti-Wrinkle Eye Zone Serum I will say I used it daily for the past 2 months, morning and evening right before applying my Cell Shock Eye Zone Lifting Complex (review, photos, swatch). When I started using this eye serum I was more concerned about my recently gained dark circles rather than my wrinkles (even though I'm in my early 30's) just because I've always used luxury skin products when it came to my skincare routine and for the past few months I've been using Cell Shock Eye Zone Lifting Complex which did an amazing job.
360º Anti-Wrinkle Eye Zone Serum works well with other Swiss line products but I've also used it in combination with Shiseido Ibuki Eye Correcting Cream (review, swatch, photos) and Algologie Eye Contour Cream (review, swatch, photos). I paired Swiss line 360º Anti-Wrinkle Eye Zone Serum for one month with my Cell Shock Eye Zone Lifting Complex and two weeks for each Shiseido and Algologie eye creams. The ideal method would be to use only Swiss line products but I'm sure not everyone will be able to pair Swiss line eye zone serum to one of Swiss line eye creams and that's why I tested it in combination with other products as well.
Right from the first application I was impressed by this product, the consistency is very light, liquidy, almost like a watery jelly so a little goes a long way. I need only a half of drop for each eye zone as I gently massage the product into the skin. It feels unbelievably lightweight and comfortable, without being at least greasy or oily. It sinks into the skin almost instantly leaving a smooth and soft eye zone. It also smells amazing, like a perfume but it doesn't irritate or breakout the skin. This product shouldn't be used also or instead of your daily eye moisturizer/ cream so be sure to always follow-up with your favorite eye cream.
Now moving to the most interesting part of this review, the results. This time I was more concerned about dark circles rather than wrinkles or fine lines because I've been using Swiss line eye zone anti wrinkles products previously starting using the serum and I haven't had any concerns in that area. I will honestly tell you I've started seeing results right from the first week of using the eye serum as my eye zone was brighter, looked more toned and had more elasticity. Even though I still had dark circles, they were looking smoother while the entire area was more luminous. In time fine wrinkles were hardly noticeable, fading away with each day of using the serum. I have to say it really depends with what other eye product you are paring the serum (I truly recommend Swiss line eye creams/moisturizers) because the results may vary depending on the type of your eye cream brand.
I started using the serum in the first month along with Swiss line Cell Shock Eye Zone Lifting Complex and after that I started paring it with Shiseido Ibuki Eye Cream for the next 2 weeks. Results were still wonderful, fine lines diminished and even a brighter eye zone area as the Ibuki eye cream concentrates its attention on dark circles and puffiness. In the last two weeks I've been using the serum along with Algologie eye cream and even though the dark circles were noticeable diminished I can't say I had the same amazing results like in the first month. Since two months have already passed I wanted to post my review but I will update this article in a month as I will be starting using again the serum as a first step and Cell Shock Eye Zone Lifting Complex as the next step.
Technology
TRIPLE-COLLAGEN COMPLEX – Three different, yet synergistic, collagen factors comprise this complex: soluble collagen; collagen boosting peptides; and a protective collagen factor. The complex increases collagen (due to the soluble collagen), strengthens it (due to the collagen boosting peptides) and safeguards the levels of collagen present in the skin (due to protective collagen factor).
HYALURONIC-ACID – This low molecular weight hyaluronic acid has a reduced molecule size, which facilitates its delivery and enhances its penetration across the skin barrier. This provides an immediate and long-term filling effect.
OCEAN-MATRIX COMPLEX – This unique ingredient is comprised of polysaccharides from a botanical origin and a lyophilisate from the red algae Porphyridium cruentum, optimized for an intense and immediately perceivable tightening effect. It also smoothes the skin while acting as a protective barrier against oxidative stress.
ANTI-DARK CIRCLES COMPLEX – This bio-engineered complex comprised of narcissus bulb extract and other botanical extracts reduces hemoglobin oxidation and in turn the darkening of the eye zone blood vessels that come from oxidation. These botanicals also counteract fatigue and stress, keeping the entire eye zone looking bright and fresh.
CELLACTEL 2 COMPLEX – This unique cell-regenerating complex boosts vital skin functions and revitalizes cellular metabolism to "lift" the skin and visibly reduce wrinkles.
Enjoy more photos…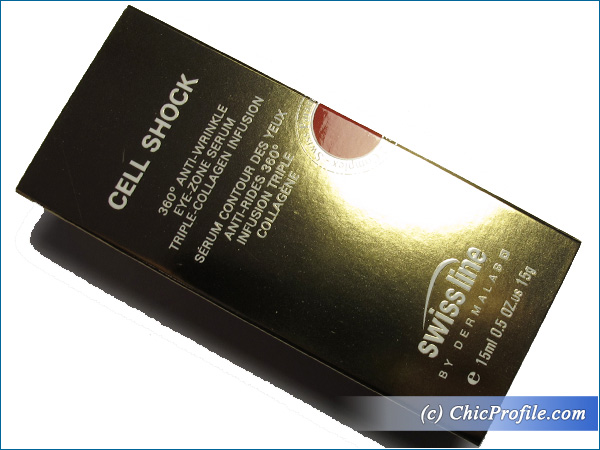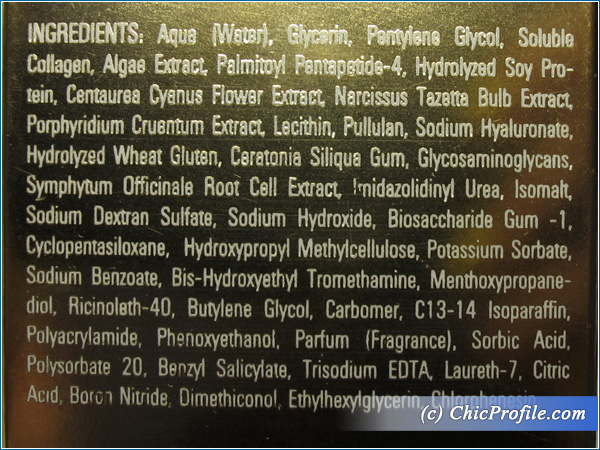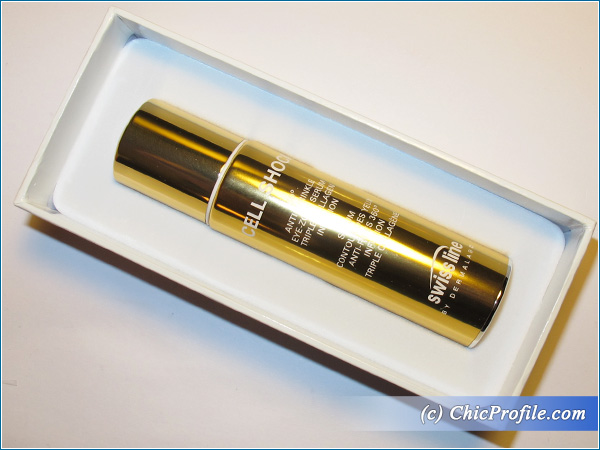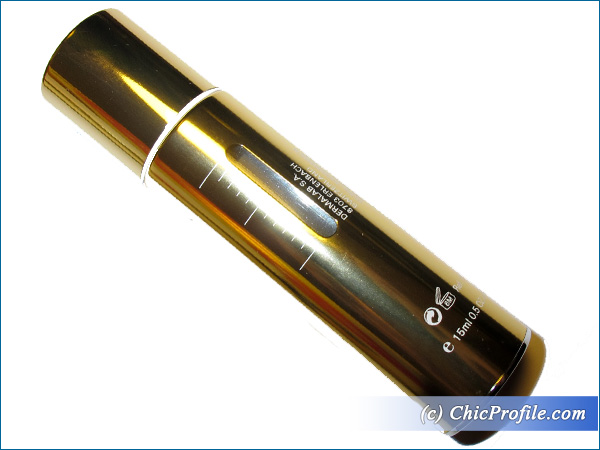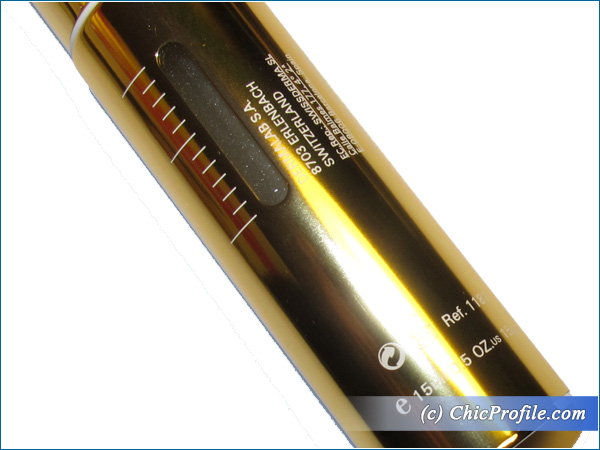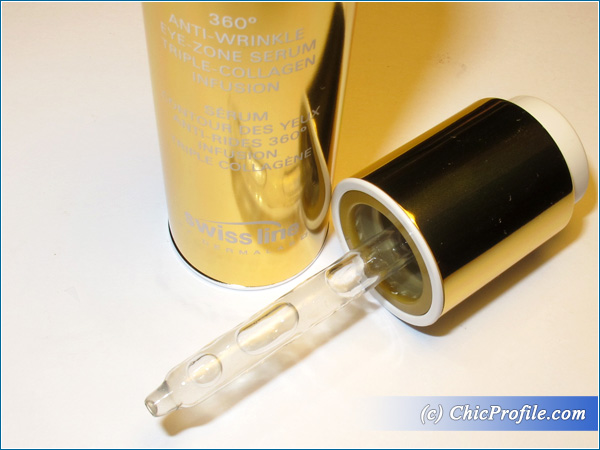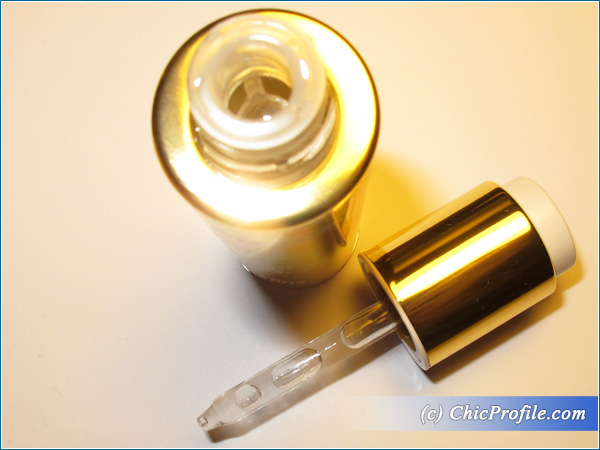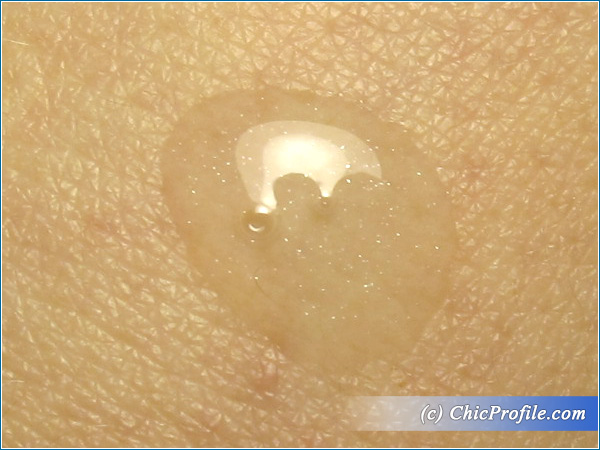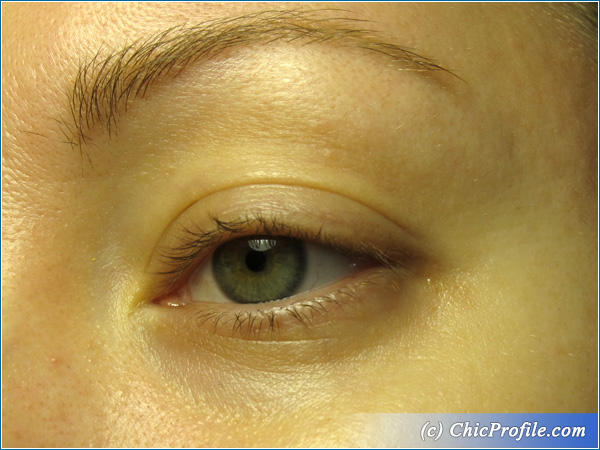 Before starting using Swiss line Cell Shock 360º Anti-Wrinkle Eye Zone Serum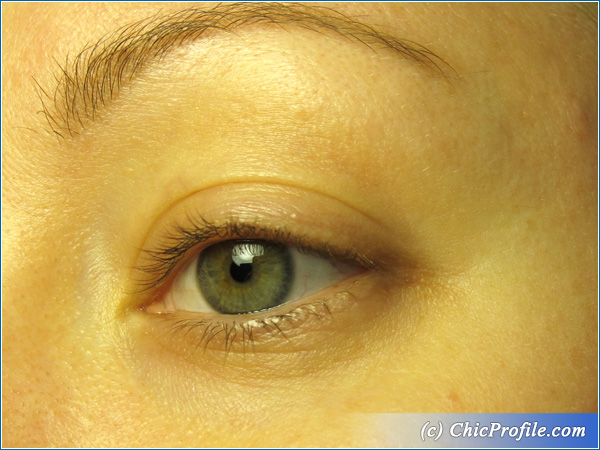 2 Months after using Cell Shock 360º Anti-Wrinkle Eye Zone Serum