Hello beauties!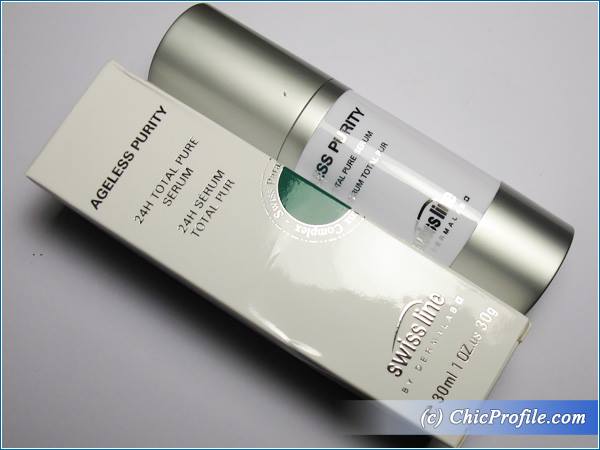 Swiss line presents 24H Total Pure Serum, a new face serum joining the Ageless Purity collection from fall 2014. I've been using this product for over three weeks now and I was very excited about testing it because I'm a fan of the entire Ageless Purity line, a niche anti-aging collection, that was specially created for those of adult skin prone to oiliness, acne and blemishes.
Regardless of whether it is hormones, your mood or even the weather that is causing your problematic, impure skin, the Ageless Purity collection will control excess sebum production, decrease inflammation, refine the skin texture, and heal and soothe the skin.
Availability
International Launch Date – September 2014 @shopswissline.com
Actually this morning I used my Ageless Purity Purifying Enzymatic Mask (review, photos, swatch) which I like to apply at least once a week and I'm using the new Ageless Purity 24H Total Pure Serum sometimes in combination with 24H Total Matte Solution (review, swatch, photos).
This serum came as a blessing, especially since the summer days are extremely hot here and I'm always concerned with sebum excess so this oil-free intensive serum combines anti-bacterial, exfoliating and healing/ soothing agents to regulate sebum and fight acne while simultaneously alleviating discomfort and irritation. I've been using it for almost 3 weeks now and I find it perfect for oily and combinations skin types, as it has such a lightweight fairly liquidy formula that skins almost instantly into the skin giving a smooth matte complexion, fresh and healthy looking.
It keeps my complexion shine-free for hours even though the temperatures out there are crazy high. It has also other benefits but I don't want to spoil what I'm going to say in my upcoming review.
The packaging is simple, handy and easy to use, revealing a small matte white plastic tube with a silver cap that hides the pump which allows you to dosage the product perfectly. The packaging itself express purity, like the rest of Ageless Purity collection which is defined by white packaging.
The serum can be applied day/ night after cleansing your face and right before applying your cream, face lotion or moisturizer. I personally need only one pump squeeze for the entire face.
Enjoy more photos…