Hello cuties!
Can you imagine a life in black and white? I sure wouldn't want to live in a world without color, as this gives me energy, makes me feel alive and even puts a smile on my face. For Christmas 2015 Smashbox presents its new Art Love Color Master Class Palette, inspired by artist Yago Hortal.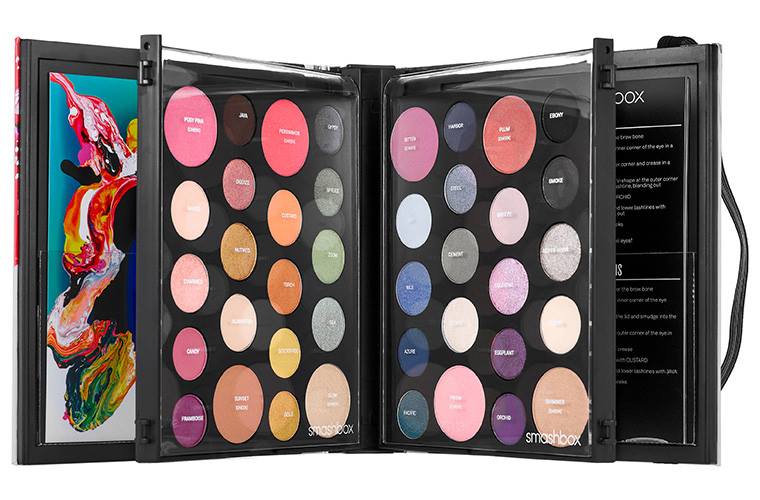 Availability
U.S. Launch Date – Now online @sephora.com
Art. Love. Color. Master Class Palette – Limited Edition – $65.00
Inspired by painter Yago Hortal's one-of-a-kind, vivid artwork, this set features 40 shades of color for cheeks and eyes. The pans easily pop in and out, making it perfectly portable for holiday trips. Smashbox partnered with breakthrough artist Yago Hortal to create these mega-vibrant, limited-edition kits featuring all of their bestsellers in a range of shades—from bold pops of color to always-flattering neutrals.
8 x Cheek Colors:

Rosy Pink, Persimmon, Sunset, Glow, Bitten, Plum, Prism, Shimmer

32 x Photo-Op Eyeshadows:

Java, Gypsy, Naked, Oxidize, Custard, Spruce, Charmed, Nutmeg, Torch, Zoom, Candy, Alabaster, Goldenrod, Sea, Framboise, Gold, Harbor, Ebony, Sky, Steel, Breeze, Smoke, Nile, Cement, Celestial, Silver Moon, Azure, Cosmic, Eggplant, Pacific, Orchid, (+1 that I can't read the name of)
Enjoy more photos…