Hello lovelies!
It's been almost two months since I found out about Shu Uemura's New Drawing Pencils and if back then I gave you just a quick preview now I'm back with more details and photos.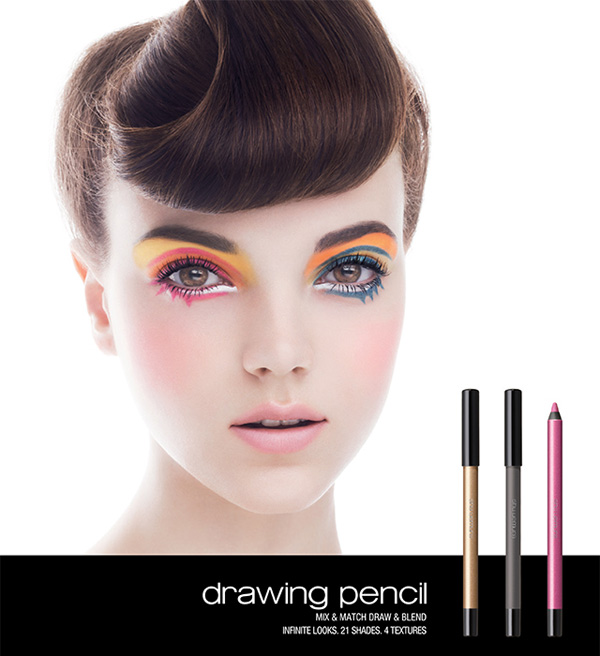 Availability
U.S. & Canada Launch Date – June 2014 at Shu Uemura retailers and select Sephora stores
Japan Launch Date – 19 June 2014
Shu Uemura Drawing Pencil – New – $32.00 / $28 CAD
M black 01: Jet black (Matte)
P black 01: Gleaming black (Pearl)
M green black 02: Jade (Matte)
M blue black 03: Black shot with blue pigment (Matte)
M purple black 04: Deep purple jet (Matte)
M gray 05: Soft charcoal black (Matte)
M chestnut brown 81: Warm, classic brown (Matte)
M earthy brown 82: Shadow maker for light/yellow skin (Matte)
M dark brown 83: Dark skin shadow tone (Matte)
M brick brown 84: Rosy skin tone (Matte)
M red purple 11: Burgundy (Matte)
P light orange 21: Shimmery orange (Pearl)
P light green 52: Shimmery lime (Pearl)
ME purple 71: Metallic eggplant (Metallic)
ME pink 12: Metallic pink (Metallic)
ME green 51: Metallic forest green (metallic)
P baby blue 62: Shimmery sky blue (Pearl)
ME navy 61: Metallic deep blue (Metallic)
G silver 92: Silver glitter (Glitter)
G gold 93: Gold glitter (Glitter)
M white 91: Intense white (Matte)
These are surely enough shades to choose from and so many finishes that I truly believe it is worth checking them out. Have you seen any colors that you might like? Do share!
Enjoy more photos…