Hello beauties!
I don't like to test new products just for the sake of testing, so I'm being very careful with I'm applying on my skin and as you know I usually prefer using luxurious skincare brands. The other day since I've finished a couple of skincare items for face and eyes I decided to try out Shiseido Future Solution FX range so I started with Total Protective Emulsion, Extra Rich Cleansing Foam and Concentrated Balancing Softner.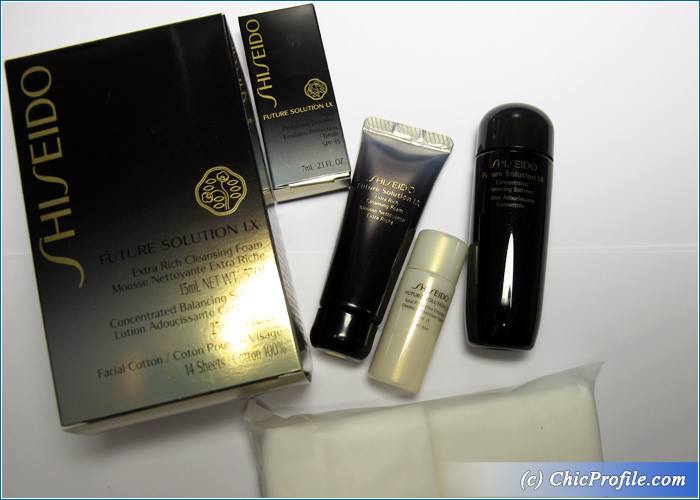 Availability
U.S. – Now at Sephora, Nordstrom, Macy's
Romania – Now at Sephora, Douglas, Marionnaud
I got a couple of deluxe samples of Shiseido Future Solution LX which I'll be using in the next couple of weeks, as I've heard only amazing things about Shiseido skincare products.
I have a combination skin type so I prefer a face serum and lotions with a light, water formula. If they have SPF and anti aging properties even better as I'm in my early 30's and I'm concern with fine lines and I like to use only the best products for my complexion. If you are among my long time readers then you know that I'm not reviewing skincare products pretty often but when I do most of my mentions are about La Mer, La Prairie and Swiss Line, brands that I totally love and their products prove to be amazing for my complexion.
Yesterday I tried for the first time Shiseido Future Solution Lx Total Protective Emulsion SPF 15 ($240 for 75 ml) which is a multi-functional daytime emulsion with a lightweight texture. It helps reduce the appearance of wrinkles so it can be used by women concerned with first sings of aging, it reduces visible pores and dullness so even combination, oily skin types can reach out to this product. I used this only two times so I really noticed it diminished the appearance of pores and even though my complexion looked a bit shiny in the first 5-10 minutes, afterwards it kept this natural appearance without any shine. This emulsion helps protect against various environmental stressors for age resistant skin. Absorbs quickly and maintains optimal moisture for resilience and radiance all day long.
Shiseido Future Solution LX Extra Rich Cleansing Foam ($55.00 for 125 ml) is a luxurious foaming cleanser which removes impurities and retain skin's essential moisture, leaving skin fresh and smooth. Having this rich foam makes it suitable for those with dry skin who can benefit from the moisturizing ingredients and will feel their skin more hydrated, brighter.
Shiseido Future Solution LX Concentrated Balancing Softner ($90 for 150 ml) is a revitalizing body cream with a silky texture. It gives skin a youthful radiance, a firm appearance while the elegant fragrance enhances relaxation.
Have you tried any of these products? Please let me know what was your experience if you'd recommend them further on.
Enjoy more photos…