Hello pretties!
Paul & Joe Parisienne Girl Fall 2017 Collection (info, photos) is sitting on my desk as I'm writing this post. It just came in this morning so I couldn't help blogging about it right away. I don't have the entire collection to show you, but I got most of the new items. When I opened the package I instantly smiled. How can you not? The fun packaging of the products just makes everything appear more vivid and playful, such a joyful collection. I can't even see the Autumn coming when I look at this fun collection.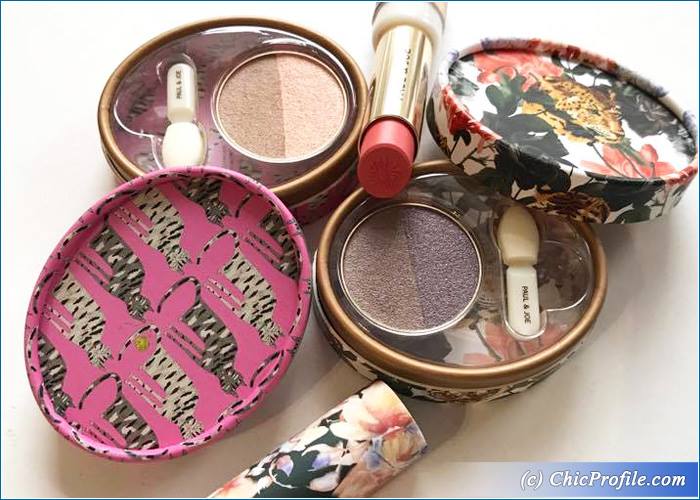 Availability
UK Launch Date – Now at Beauty Bay | September 2017 at Selfridges
There's a variety of new Paul&Joe Lipstick Colors (£14.00 for 3.5 g / 0.12 oz) coming out for Fall 2017. I'm talking about sheer, creamy, nudes or fully pigmented colors, you name it. I got three of the new shades to show you and I do admit I was fooled by the dark color thinking I couldn't wear it. Turned out it had such a sheer color and a juicy consistency that just felt right immediately.
I got No.203 Petite Princesse, No.307 Le Marais and No.103 Framboise Mure that I was telling you above. Actually I'm wearing right now the sweet peach shade of No.203 Petite Princesse but I want to give you more details in the upcoming reviews. Le Marais Lipstick is the most intense shade and is a gorgeous dark raspberry with a shiny finish. Oh God I can't wait to put this shade on my lips next!
There are also two new P&J Eyeshadow Duos (£19.00 for 2.5 g / 0.08 oz) in No.111 Charmante Girl and No.112 Parisinne Girl and you can check the swatches bellow. They apply on so smoothly and the colors have a good color payoff. I just feel these are the right shades for fall, a touch of light brown with a mix of plum. Do I need to say how cute the cardboard packaging is? OK….I'm in a hurry to put these new colors on my lid, test them for a bit so I can return with the reviews later this week.
I will let you take a look at the photos bellow as this collection has really warmed my heart today. 🙂
SHOP THIS POST
Enjoy more photos…