Hello pretties!
After I've already announced the availability of Out Milano in London last month, it's time for my first review. Oud Milano Lip Designer Lipstick in No.103 is one of the 18 available shades. This lipstick line doesn't have that many nude colors and I can actually say this is one them. Oud Milano open its first store right on Oxford Street and if you are following me on Instagram you can see how it looks like.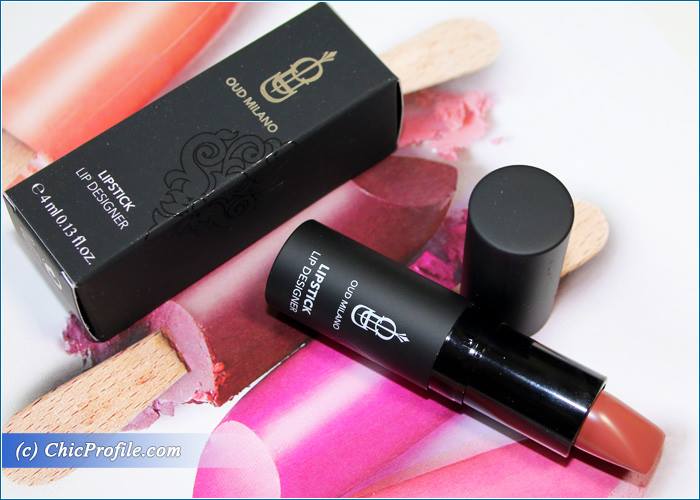 Where to buy:
London – Now at Oud Milano Store (353 Oxford Street, W1C 2JG – across the street from Debenhams)
International – Now @oudmilano.com
Oud Milano No.103 Lip Designer Lipstick ($27.94 / £21.50 for 4 ml / 0.13 fl oz) is a medium-dark, rosy-brown with warm undertones and a natural sheen. The color payoff is great, fully opaque on the lips in one swipe. The consistency is creamy but a little bit thick though. It glides fairly well on the lips and covers them with a rich, pigmented color.
The formula feels comfortable on the lips as it contains previous waxes which soften and nourish the lips. I didn't feel my lips dry at any time but I can't say they feel really moisturized. It's a good lipstick, with a vibrant color and creamy consistency which does have a long-lasting formula.
It doesn't emphasizes lip lines and it gives a healthy, natural sheen. Adheres well onto the lips thanks to its enriched formula with emulsifiers.
For a light skin tone like me the color is a bit too dark so I'd see it better on medium and darker skin tones. When I do wear it I like to light up the color with a brighter lipstick in the center of the lips.
I had about 6 hours wear with the formula without eating. If you do eat, most of the color will remain on your lips (if you don't have greasy food).
The packaging is simple, black and yet classic. It opens easily and shows a lipstick with pointed edges which can help you apply the color better on the corners of your lips.
Enjoy more photos…