Hello beauties!
I'm starting this Monday with a fun and bright color from Oud Milano cosmetics. If you take a look at Oud Milano Impressive Matt 215 Lipstick you'll see right away that this is my kind of shade. I'm drooling over hot pinks and purples and this color is just too beautiful to describe it. 🙂 I was looking for an impressive matt finish, but I found something even better. Oud Milano offers discounted prices now for all of their Impressive Matt lipsticks so you can choose any color. They have quite an impressive range of lip colors to choose from as I showed you on Instagram. Keep reading for more details and lip swatches!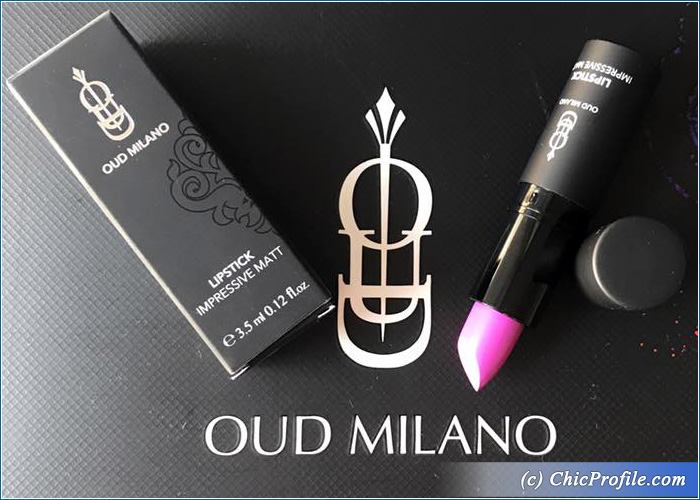 Where to buy:
London – Now at Oud Milano Store (353 Oxford Street, W1C 2JG – across the street from Debenhams)
International – Now @oudmilano.com
Oud Milano Impressive Matt 215 Lipstick (£14.64 for 3.5 ml / 0.12 fl oz) is a medium, violet-pink with blue undertones and a velvet, satin finish. The color is bright, vivid and very bold. Just one swipe and you can see the great color payoff.
Oud Milano Impressive Matt 215 Lipstick Review
The color coverage is opaque in one coat. In the lip swatches photos bellow you can see some fine lines, but those will just go away after the second coat. All the swatches are just in one layer of color. The formula is very creamy, lightweight and glides amazingly well across the lips. It doesn't pull or drag, it just coats the lips with a velvet formula. I just get this amazing, comfortable sensation everytime I glide the lipstick over my lips. I was thinking of the impressive matt formula as something with a completely matt finish and a dry texture. Nothing true!
The consistency is very creamy and almost melts into your lips and glides easily. My lips feel silky and smooth while the color pay-off is amazing. It doesn't dry down to a completely matt finish and leans more towards satin. I love wearing bright and bold shades like this, especially when they are pink or purples so Oud Milano Impressive Matt 215 Lipstick is a joy for me.
It resist well on the lips for hours on end. The formula is definitely long-lasting and it also leaves a pink stain behind. It's hard to resist a color like this with an impressive velvety and rich finish. 🙂
I got about 6 hours wear with eating and drinking. The formula is neither drying nor moisturizing, but my lips felt soft even after the color was gone. I didn't feel any dryness throughout the wear.
Enjoy more photos…