Hello sweeties!
For years I was faithful only to one eyebrow pencil until I discovered two new ones, last month. Oud Milano Eye Brow Pen is one of them while the other is Eyeko Brow Game Strong (upcoming review). I had my eyes on the Oud Milano Eye Brow Pen for a few weeks before trying it out at their boutique. I saw other Instagramers and makeup artists praising it so I wanted to see for myself. I'm giving you the real deal about this one, right bellow.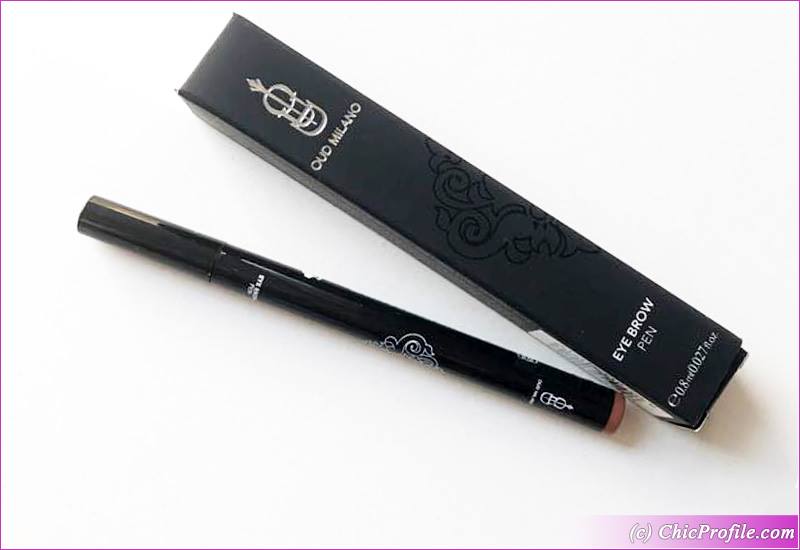 Where to buy:
London – Now at Oud Milano Store (353 Oxford Street, W1C 2JG – across the street from Debenhams)
International – Now @oudmilano.com
Oud Milano Eye Brow Pen (£13.80  for 3 ml / 0.1 fl oz) comes in a variety of 4 or 5 shades. I swatch them all at Oud Milano boutique but online I see only two shades listed.
Oud Milano Eye Brow Pen Review
My shade is No.502 a medium reddish-brown that down to a matte finish. To tell you the truth when I swatched this shade I wasn't convinced it was the right one for me. It appeared to dark and I'm a blonde with a light skin. Once I applied it on my brows it was a game changer.
It comes as a pencil with a pointed tip for a precise application. The tip is a bit stiff, only the very small part of the tip is a bit flexible. When you apply it the trick is to keep it horizontally and draw fine strokes. It took me a while to master the technique (I'm not queen of the perfect brows yet).
The color is quite buildable so I personally apply it with a light hand as I don't want it to be very dark. The same color can work for someone with medium skin tone as well. I usually preferred an eyebrow pencil (MAC Lingering being my favorite for year). You see, a pencil is more forgiving when you make a mistake and can easily erase it but with this pen is a bit different.
Once the formula dries down, it hardly comes off. It's just like a tattoo. The good part is that you know you can count on it for the entire day. It even leaves a stain behind. You have to work quickly, draw your eyebrows and erase any mistake before the formula dries down. Those of you who are experts in lining your brows I'm sure you'll consider it piece of cake.
I personally start by lining my brows and fill them in easily, gently and very lightly. Only after that I dare to add another layer of color to intensify them. You can darken the color as much as you want. Once it dries, the formula is long-wearing, water-resistant and smudge-proof.
I told you I swatched the colors at the boutique and trust me that it was a pain to remove them once they were dry. I used a makeup remover wipe but the stains were visible. The formula dries down pretty fast so if you have to be quick about it. In the beginning I used my eye brow pencil and on top of it I came with Oud Milano Eye Brow Pen. Now I can do without the eyebrow pencil.
Needless to say that it lasts from morning till night and even more if you want it. Choose your makeup remover wisely as it doesn't come off with only micellar water or makeup remover wipes.
Enjoy more photos…