Hello babes!
As I'm trying more and more Oud Milano products I'm coming back to you with new reviews. Today is all about Oud Milano 303 Eyeshadow Compact, the first eyeshadow color I tried from this line. It's one of the 30 shades available which promise a wonderful pigmentation and rich color. I have more eyeshadow colors coming up for review so keep an eye on the blog.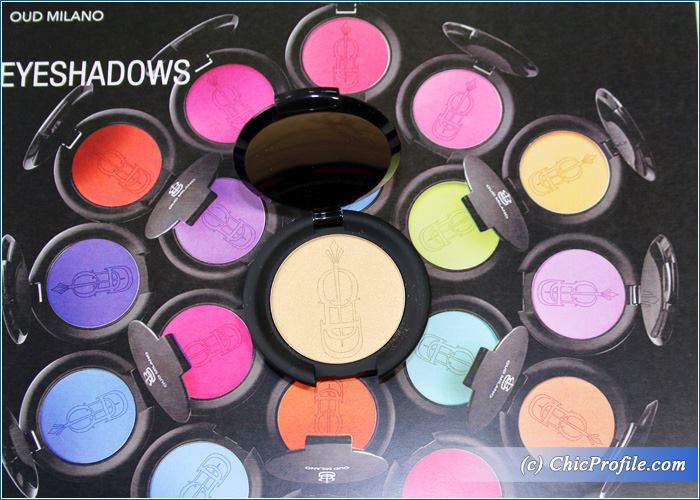 Where to buy:
London – Now at Oud Milano Store (353 Oxford Street, W1C 2JG – across the street from Debenhams)
International – Now @oudmilano.com
Oud Milano No.303 Eyeshadow Compact ($25.28 / £19.50 for 3 g / 0.1 oz) is a light golden-yellow with warm undertones and subtle gold sparkles. It has a semi-sheer coverage applied on bare skin. Over an eyeshadow primer it does look more vibrant but is buildable up to a medium coverage.
Is not a very intense shade, nor very rich or pigmented. If you like a wash of gold on your eyelids, something subtle then this is for you. The texture is soft and lightweight but the consistency is very powdery. Because is very powdery it kicks off a lot of powder right in the pan when I swatch it or dip my brush to pick up product. During the application is shows a bit of a fall-out so make sure to apply a primer.
On bare skin it doesn't adhere so well onto the lid. The color is prone to sheer out when you try to blend it. I don't see this color as a buildable one, so is more on the soft side. Is that kind of subtle gold with a bit of metallic sheen.
I had around 5 hours wear with this formula with minor fall-out.
The packaging is simple, yet a bit classic. The eyeshadow comes in a black, matte rounded compact with the Oud Milano logo embossed on the cap. It is very easy to hold and open the cap but I'm not sure if it's easily depotted. I don't see any small hole in the back of the packaging so you could have pushed and easily depot the eyeshadow.
Enjoy more photos…