Hello beauties!
Last month I had the pleasure of discovering Oh K Masks and I took you with me at the event by posting live on Instagram!  Oh K released its first face mask in 2016 and ever since they've seen the craze for the masks completely explode. According to Google's Beauty Trends 2017 report, face masks are the biggest global skincare trend of the year so far. When it comes to masking and skincare Korea beauty is leading the way with boundary breaking formulas and innovative packaging.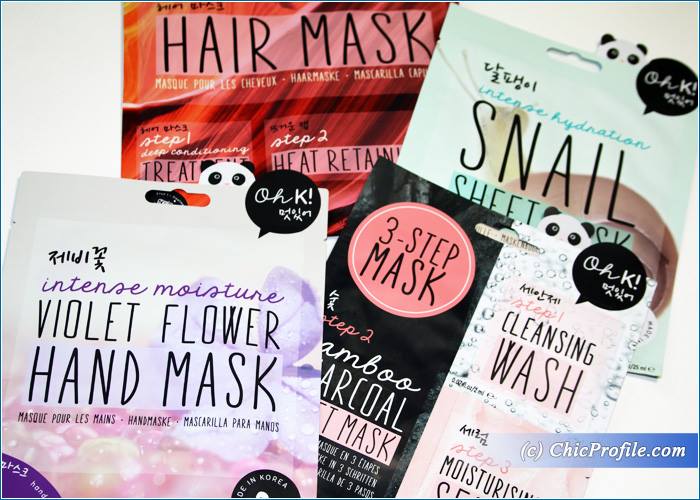 Where to buy:
UK & U.S. – Now at Debenhams, Asos, Beauty Bay, Boots, Feel Unique
Oh K! Masks Now Available in the UK
Sheet masks are the perfect skin care solution for the woman on the go. Quick to apply with no mess, no fuss and achieving instant results! What else can you wish for? There's a variety of sheet mask to choose from and I'm not talking only about face masks.
Oh K masks are also for lips, hands, hair and legs. Have you ever tried one?
Each ingredient has been discovered by beauty experts through extensive research and each hold unique and powerful properties that help to transform the look and feel of the skin.
I got a variety of masks to try out at home but if you are interested I can tell you a bit more about them separately. If you are following me on Instagram I bet you've already seen me using them. The first one I tried was Oh K Snail Sheet Mask (£9.00) since I was already familiar with snail skincare. About two years ago I had a skincare routine with products that were based on snail extract and I loved them to death.
The formula contains snail mucin and is deeply hydrating. It feels very comfortable on the skin while it works intensively to make my skin youthful and fresh. The mask comes packed with a lot of product, so even after I apply it on my face, there's still some product in the packaging. The fibre mask acts as a barrier to prevent the formula from evaporating and skin care absorb up to three times more than a liquid mask.
It's so easy to apply, which I absolutely love. The sheet masks are travel friendly as you can simply pack a couple of them in your luggage and you are set for a trip or a vacation. I'm actually planning of taking some of them with me in my vacation and enjoy the hydrating effects, without taking my full size skincare products.
How to apply:
I simple cleanse my face as usual, remove the sheet mask from sachet and apply it on my face. Depending on the mask, you will have to keep it on from 10 to 30 minutes. Once you remove the mask, just use circular motion to massage residual liquid into skin. There's no need to rinse afterwards.
After I tried the Snail Sheet Mask, my face felt fresh and super hydrated. I was left with a lot of residual liquid so it took a couple of minutes to penetrate my skin. I have a combination skin and sensitive type but I got such a relaxing and moisturizing feel while I had the mask applied. The residual liquid was fast absorbed into the skin without leaving my skin greasy or sticky. I felt my skin hydrated and luminous throughout the day.
I recently got new Oh K sheet masks to try out! Do follow me on Instagram if you want a sneak peek everytime I try a new mask.
Yesterday I had the Black Sesame Hydrogel Mask (£9.00) applied and I absolutely loved it. I was surprised by its texture as it felt amazing on the skin. It was not like any other sheet mask I tried. It's a 2 pieces hydrogel mask which contains black sesame seeds to revitalize and energise the skin. I will reveal more details about each mask in upcoming reviews.
SHOP THIS POST
Enjoy more photos…