Hello pretties!
Since NYX opened its first store in Bucharest I've been visiting the counter pretty often and since I already showed you my latest NYX makeup haul, it was time for some product reviews. In the beginning of this fall I was in the mood for some dark, even black lip colors as well as hot pink shades, while later on I started shopping for colors that I wouldn't even seen myself wearing a month ago. 🙂 So let me show you these two NYX Butter Gloss shades in Sugar Cookie and Blackberry Pie that were so fun to wear alone and even mixed together.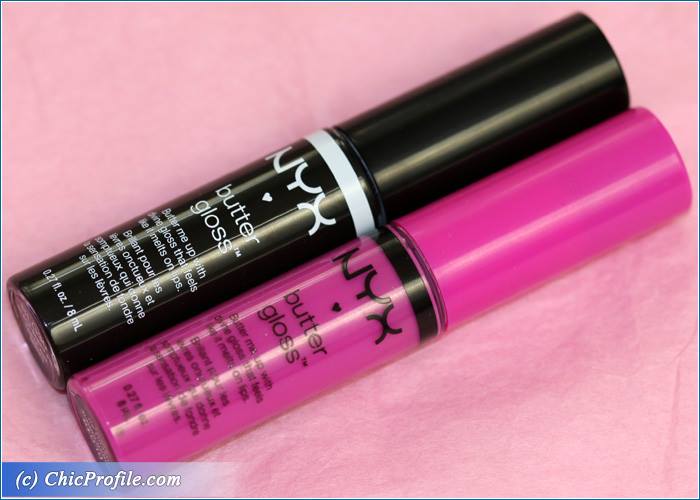 Where to buy:
Romania – Now at ParkLake Mall (Bucharest) | City Park Mall (Constanta)
International – @nyxcosmetics.com
NYX Sugar Cookie Butter Gloss (34.00 Lei / $6.00 for 8 ml / 0.27 fl oz) is officially seen as a bright fuchsia. I see it as a medium fuchsia pink with blue undertones and a cream finish. It had semi-opaque color coverage, but it did change my natural lip color when applied.
It applied easily but even though the color is intense it tends to look splotchy at times and a bit uneven so I did went over with a second layer. I love the shade and because it's not totally opaque on the lips it's perfect for day wear. It has a glossy finish which makes my lips appear fuller and fresh.
It's the kind of barbie pink color and goes perfect on light skin tones. The formula feels comfortable, non sticky at all, leaving lips supple and soft. The color wore on me for about 3 hours without leaving a stain.
NYX Blackberry Pie Butter Gloss (34.00 Lei / $6.00 for 8 ml / 0.27 fl oz) is a black with creamy and glossy finish. It had a good color payoff, but not overly pigmented.
It had semi-opaque color coverage and didn't apply evenly in one swipe, looking splotchy at times. I had to apply a second coat to even out the color and add more depth. It's the kind of color which performs better applied over a lip liner base so I did purchase a black lip liner as well. It has an intense glossy finish and gives lips that beautiful wet lips effect, but it's definitely not for those who are color shy. The formula is the same as NYX Sugar Cookie Butter Gloss, comfortable to wear, non sticky or tacky at all.
Now that the Halloween is getting closer a shade like this may be an option for you guys, especially if are looking for a dramatic makeup look. I noticed that this season almost every brand has come up with its own black lipstick or lip gloss color and edgy, dark lips are so trendy.
Because embarrassing the matte lip trend takes a while to get used to, I though trying out first a glossy shade will make the transition easier. 🙂 I don't know about you, but as I said, this fall season I'm trying on colors that I wouldn't have seen myself wearing a while ago, so I admit I had quite a bit of fun wearing NYX Blackberry Pie butter gloss.
I had about three and a half hours wear with this formula and it left a stain as well.
Enjoy more photos…