Hello beauties!
A new NYX Soft Matte Lip Cream shade that I've tested this week is No.26 Havana. I'm actually intrigued by this product which is neither lipstick nor lip gloss, that goes on silky smooth when applied and sets to a matte finish. NYX offers a variety of colors for this product, but especially nude shades if you are a fan of those. Havana Soft Matte Lip Cream looks intense and it's more evening or night time appropriate so if you want to dip your lips in the color of intense then keep on reading for more details.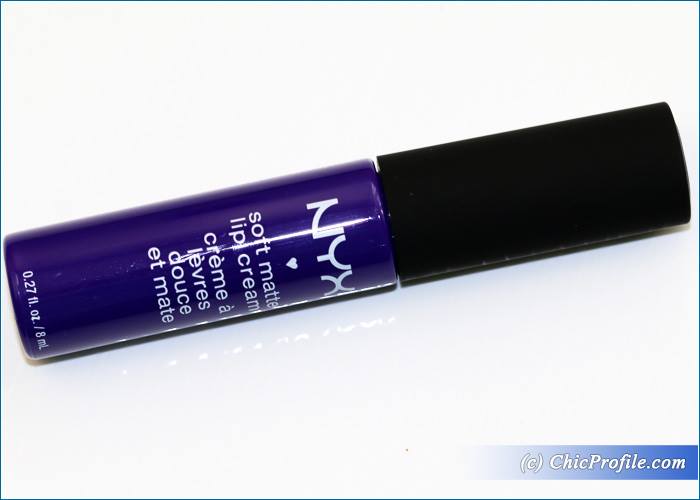 Where to buy:
Romania – Now at ParkLake Mall (Bucharest) | City Park Mall (Constanta)
U.S. – Now at Ulta, @nyxcosmetics.com, Amazon
UK – Now at Selfridges
NYX Havana Soft Matte Lip Cream (29.00 Lei / $6.00 / £5.50 for 0.27 fl oz / 8 ml) is a dark violet blue with cool undertones and a satin-matte finish. It's a rich, intense color that dries down in a couple of minutes to a soft matte finish.
Even thought the color is dark it doesn't look opaque on the lips in just one coat. The application is tricky for me even though I heard so many great things about NYX Soft Matte Lip Creams. In order to get a fully opaque and even color coverage I had to apply up to 3 layers of color. I mean put on the first layer, wait for it to dry completely then apply the second one and after a few minutes the third one.
It glides easily across the lips without tugging but it leaves lines behind and a streaky and patchy look. I had to work my way in order to get the color to look even.
The texture is thin but it doesn't feel dry at all when applied. I make sure to moisturize my lips before using a matte finish lip product like this one so the formula won't sink into my lip lines too much and emphasize them. During the application I really felt the need of a matching lip liner to help me create a precise edge and probably use it as a base.
Unlike other matte finish lip products, this one feels quite comfortable and slightly hydrating overall. I didn't felt my lips for any second from beginning to end. They said to be long lasting and many reviews have stated them like this, but on me they tend to last about 4 hours. If do have something to eat they fade immediately, but they still look OK if I'm just only drinking (or sipping from a straw).
Enjoy more photos…