Hello beauties!
NARS Velvet Matte Foundation Stick got my interest a few months ago when I saw the sneak peek from New York Fashion Week. This is the brand's first stick foundation and comes in a variety of 20 shades. I must say that I'm curious about the formula and how it applies. I'm already familiar with stick foundations and I love them to death. My all time favorite is Numeric Proof Stick Foundation and is amazing. It was about time that NARS released its first foundation stick. I guess, now I can forgive NARS for the Asia exclusive launch of Aquatic Glow Cushion Compact Foundation.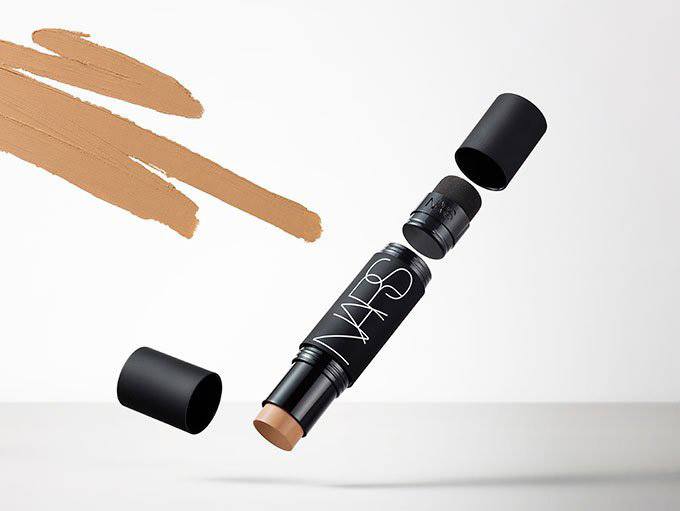 Availability
U.S. Launch Date – 1 September 2017 at Nordstrom, Sephora
UK Launch Date – 1 September 2017 at Selfridges
Japan Launch Date – 20 October 2017
NARS Velvet Matte Foundation Stick – New & Permanent – £30.00 / €38.00

What I think NARS brings new to the foundation stick is the special latex-free removable touch-up blender. So on one end you have the soft, creamy formula of the foundation with a matte finish while on the other end you find the sponge blender. I don't know if you've tried a foundation stick before, but it's the easiest way to apply your foundation. The perfect method is by using your fingers, but the makeup brush or beauty blender will do.
The beauty of a foundation stick is that you can also use it a contouring or highlighter if you want to choose a lighter and a darker shade. You just line your face with the three foundation colors and then start to blend them easily into your skin. I tried this with Numeric Proof 3 in 1 Stick (upcoming review) and it was easier and quicker than ever to contour and highlight my face. All those three steps in just one simple application and not to mention that you can save up time. 🙂
So I have great expectations from NARS Velvet Matte Foundation Stick and I will be at the counter when it launches. The formula is said to be buildable and easily blendable with a natural matte finish.
Shades:
Siberia Light 1 – light with neutral balance of pink and yellow undertones
Mont Blanc Light 2 – light with pink undertones
Gobi Light 3 – light with yellow undertones
Deauville Light 4 – light with a neutral balance
Fiji Light 5 – light with yellow undertones
Ceylan Light 6 – medium with yellow undertones
Punjab Medium 1 – medium with golden, peachy tones
Vallauris Medium 1.5 – medium with pink undertones
Santa Fe Medium 2 – medium with peachy undertones
Stromboli Medium 3 – medium with olive undertones
Barcelona Medium 4 – medium with olive undertones
Syracuse Medium Dark 1 – medium-dark with brown undertones
Tahoe Medium Dark 2 – medium-dark with caramel undertones
Cadiz Medium Dark 3 – medium-dark with caramel and red undertones
Macao Medium Dark 4 – medium-dark with yellow undertones
New Guinea Medium Dark 5 – medium-dark with red undertones
Trinidad Dark 1 – dark with warm yellow undertones
New Orleans Dark 2 – dark with yellow undertone
Benares Dark 3 – dark with golden undertones
Khartoum Dark 4 – dark with espresso undertones
Enjoy more photos…