Hello beauties!
It's time to see the holiday 2016 NARS Sarah Moon Collection after their Gift Giving 2016 Collection was revealed earlier this month.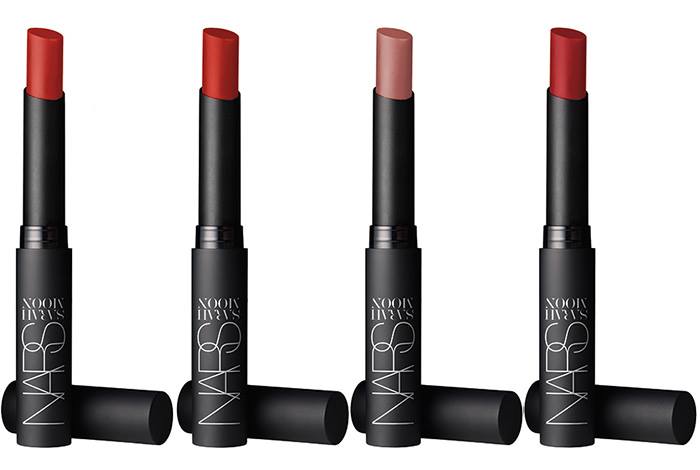 François Nars and fashion photographer Sarah Moon dare you to look closer as their limited-edition collection exposes every facet of the feminine. Deeply inspired by iconic cinema, François Nars and Sarah Moon collectively worked from the nostalgic futurism of Metropolis to set the mood for the season's story. Every element of the collection blurs the lines between real and surreal, serving as a direct expression of their collaborative vision.
Availability
U.S. Launch Date – 15 October 2016 online @narscosmetics.com | 1 November 2016 at Sephora, Nordstrom, Neiman Marcus, Saks,Barneys
NARS Sarah Moon Holiday 2016 Collection
Moon Matte Lipstick – Limited Edition – $28.00
An intensely opulent, high-pigment formula.
Indecent Proposal

– nude rose

Rouge Improbable

– raspberry red

Rouge Indiscret

– red geranium

Fearless Red

– vivid red
Duo Eyeshadow | $35.00 | Limited Edition
Quai des Brumes

– iridescent lavender smoke / charcoal with gold shimmer

Indes Galantes

– iridescent idnigo smoke / mulberry
Blush – Limited Edition – $30.00

Impudique

– pink red

Isadora

– lavender pink
Kohliner – $29.00
Witching Hour

– iridescent charcoal

Sichuan

– rusty brown
Eyelashes – Limited Edition – $20.00
Numero 9

False Eyelashes

Numero 10

False Eyelashes
Nail Polish – Limited Edition – $20.00
Never Tamed

– geranium

FlonFlons

– pink red

La Dame En Noir

– deep burgundy
Enjoy more photos…