"MustaeV Secret Brushes to through a 32 step manufacturing process developed with over 60 years of expertise and brush  making technologies proving the highest craftsmanship."
MustaeV makeup brushes are made using premium materials and are of superior quality making these brushes the preferred choice of professional makeup artists.
The MustaeV Secret Brush Collection, consisting of 27 brushes!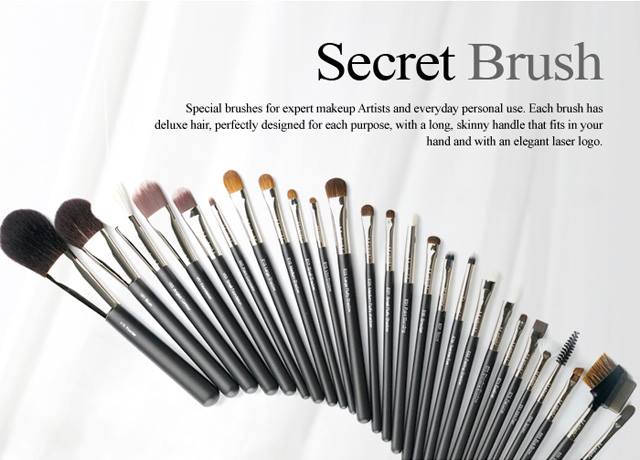 Each brush goes through a 32 step stage production process and is completed in the same factory from the hairdressing stage to wrapping and sterilization, so that consistent quality assurance is possible. During this process each brush is subjected to 7 stage of inspection and 7 stages of quality assurance. The final step takes the brushes through a sterilization process that is used by medical equipment manufacturers to assure the brushes are bacteria free at the time of shipping.
"Through this systematic control process the highest craftsmanship and quality is guaranteed."
The Secret Brush Collection offers a variety of brushes to meet your preferences and needs. Whether you are looking for a face, eye or lip brush MustaeV has it all.
Not let's take a detailed look at the Secret Brush. MustaeV only uses the highest quality materials in the manufacturing of the Secret Brush.
The Secret Brush features a durable Brass base ferrule that is plated with Chrome and lasered with the MustaeV logo and a handle that is made out of Birch Wood which is resistant to chipping and allows for a steady application.
The long, skinny Secret Brush handle fits perfectly into your hand and is lacquered with nine layers of high quality dark green enamel and decorated with the brush type and a number to easily distinguish the brush.
What differentiates Secret Brushes from other brushes on the market?
When designing the Secret Brush, MustaeV uses the highest quality materials taking into consideration the purpose and application quality of each brush. The hair bundles are made with premium grade goat hair, sable hair, squirrel hair, horse hair, Taklon, and Nylon. Each bristle functions differently.
Goat hair is the versatile and commonly used for powder, blush and eye shadow brushes. It has a medium stiffness, is resilient and offers superior powder pick up power and release.
Squirrel hair is the smoothest of all hair used to produce makeup brushes and, although the hair is luxuriously soft, it offers a low pick up power and is ideal for a natural application and an airbrush effect. Commonly used to produce powder, blush and eye shadow brushes.
Sable hair offers high stiffness and has great elasticity. Its stiffness provides an intense color application with minimal blending. Commonly used for eyeliner, lip and concealer brushes.
Horse hair offers medium pick up power and release. The hair is stiff but has less elasticity than sable. Depending on the type of horse hair will determine its softness and stiffness. The hair from the tail tends to be stiff and used for brow brushes. Other horse hair is less stiff and makes a great shadow and buffing brush when mixed with goat hair.
Ox hair is also a commonly used hair. The hair is stiff, has a resiliency similar to sable to does not offer the fine tips sable does. Ox hair makes a great eyebrow brush as it provides great intensity with minimal blending.
Taklon is the most commonly used synthetic fiber. It has a smooth surface and is elastic, but due to its lack of pick up power it is recommended for applying liquid, creams and gel products.
Nylon is the oldest synthetic fiber used to produce makeup brushes. It is extremely stiff and makes a great screw brush for grooming the brows, separating lashes and removing mascara clumps.
In addition, MustaeV uses the natural hair tips instead of laser – cut ones. The fine tips of the bristles play a major role in the softness and makeup application of the brush. MustaeV's motto is "the finer the tip, the softer the brush, the better the makeup application."
MustaeV does not use filler hair and the brushes are all handmade and shaped by hand which means each brush head is uniform and the bristles are evenly distributed. MustaeV brushes are durable and do not shed continually as many other makeup brushes do.
Let's take a closer look at what makes the Secret Brush special by reviewing the features of the powder brush.
The hair bundles are made with soft, high quality natural hair, perfect for applying powder products. It provides a luxurious feel, smoothness, resiliency, excellent powder pick-up power and color payoff for an effortless application.
Due to the high quality, luxuriously, soft bristles that these brushes are made of, even the most sensitive skin with not experience irritation.
Luxurious, soft wool of the highest grade provides a smooth and even application effortlessly. Determining what brushes to buy can be difficult.
Look for brushes that are made with high quality materials and have top notch assembly quality. This plays a major role on the life of a brush along with preventing skin irritation due to the softness of the bristles.
In addition, keep in mind what type of application your are looking for. Here are some basic tips:
Larger brushes are best for the application of products onto the face and body.
Medium size brushes are ideal for contouring, highlighting and applying blush.
Small brushes are great for detailed work on the eyes, brows and lips.
Denser brushes provide more product pick up power and a more intense application.
Fluffier brushes are perfect for blending and provide a diffuse application.
Tapered brushes provide precision.
Flat brushes provide an even application with little precision.
Dome shape brushes provide a balance between a flat and tapered brush.
Use these basic tips when buying brushes to determine what your makeup brush essentials are.
Storing Method
Storing your brushes properly keeps them in the best of shape.
Black Black Pouch – this pouch is practical, portable and can be conveniently used anywhere.
Bloom Pouch (Large) – the pouch can conveniently be folded to create a standing brush holder. It is very portable and great for travel or everyday use.
Brush Head Protector – keeps brushes in top shape by shielding the hair bundle when the brush is not being used and preventing cross contamination between cleanings.
Performance Brush Belt – a professional brush belt with plenty of storage that is convenient and practical. A must have item for professional makeup artists.
It is important to clean and care for your makeup brushes in order to keep them in top shape. Use MustaeV Brush Cleanser Shampoo and Brush Cleaner Spray to gently cleanse cosmetic debris and remove bacteria, along with conditioning the brush hairs.
Store the brushes in a pouch specially  made for makeup brushes and use brush head protectors to shield the hair bundle when the brush is not being used and preventing cross contamination between cleanings. Following these simple steps will keep your brushes in like new condition.
The best makeup is created with high quality makeup tools. MustaeV Secret Brushes for creating elaborate and gorgeous makeup. Experience a new world of makeup with the simple touch of a brush.
Touch and feel and you will know why it has to be MustaeV!