Hello beauties!
I got MustaeV Pink Mist Eyeshadow (more shades & swatches) for a few weeks now and I've been putting it to the test quite a lot. Even though I told you about it since last year and featured it in several makeup looks, I wanted to play with it for a little longer before posting a review just because it can be used not only as an eyeshadow. The color might look casual but is not, is more than that an you just have to swatch it and play with it in different lights so you can see its full potential.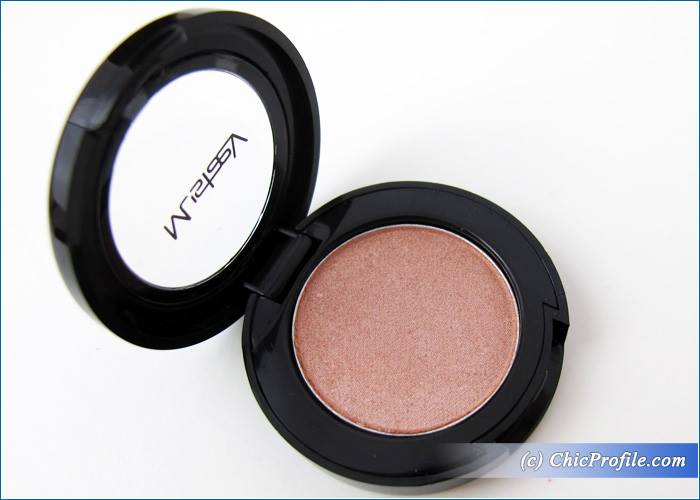 Where to buy:
U.S. & Worldwide – @mustaevusa.com (15% Discount using discount code: chicprofile), @mustaev.co.kr (International Shipping)
MustaeV Pink Mist Eyeshadow ($13.00 for 1.8 g / 0.06 oz) is officially described as a delicate pink hue with shimmering pearl that changes from pink to brown according to the angle of the light and provides a velvety smooth application.
It's a light-medium peachy-pink with warm brown undertones, a subtle gold shimmer and a pearl finish. It had mostly a medium-opaque color coverage with a super silky, smooth and velvety texture. When swatched it feels incredibly smooth and silky to the touch, just like the perfect combination between cream and powder. It applies well, without any fall-out and it's easily blendable.
MustaeV Pink Mist is a color that I've been playing a lot with for the past few weeks, pairing it with different eyeshadow colors and formulas, wearing it both for a day and night  time makeup look. I simply love the effects this color gets under different types of light, as it always manages to look a bit different.
I do believe everyone can wear this shade, it will be suitable for any skin color, especially for those with oily lids as it has a sebum control powder which also maintains a hydrating, non-drying feel.
I like this color and texture so much that I actually used it as a highlighter as well, on several occasions (for evening makeup looks), just gently dabbing it on the top of my cheek bones. It gave me such a beautiful subtle peachy-pink glow, but if are medium to darker skin tone you can easily build up the color.
The color adheres well onto the skin even without pairing it with an eyeshadow primer, has no fall out and doesn't crease or smudge. It feels comfortable on the skin, without any dry feeling.
I had over 10 hours wear before I noticed the color showed signs of fading.
The packaging is classy, easy to use and open as the shadow comes in a black rounded plastic case with a transparent lid that snaps shut.
I've already done a makeup tutorial where I used MustaeV Pink Mist, but keep on checking my blog as there will be more makeup looks with this gorgeous color.
Enjoy more photos…