Hello cuties!
MustaeV Pink Bikini Eyeshadow is one of my newest powder single eye shadows which arrived in my makeup collection along with other MustaeV products (preview, swatches, photos). If it was up to me I would test, play and own all the pink eyeshadows in the world, this is how much I like the color. A shade like this can instantly brighten up your day when you wear it, ads freshness and makes us look younger and innocent.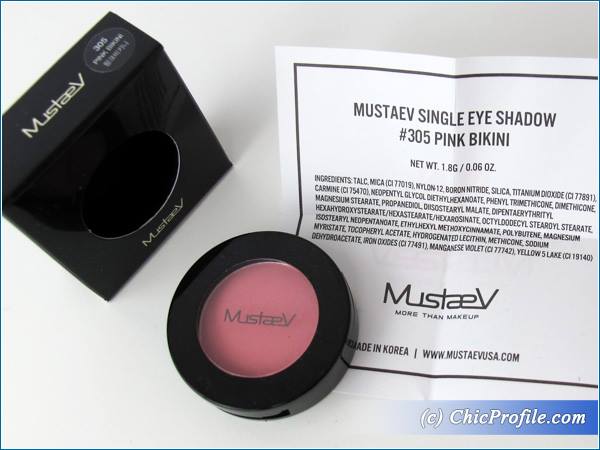 Availability
International – @mustaevusa.com (15% Discount using discount code: chicprofile), @mustaev.co.kr (International Shipping)
MustaeV Pink Bikini Eyeshadow ($13.00 for 1.8 g / 0.06 oz) is officially described as a mid tone pink shadow with a matte texture. I see it like a medium pink with red undertones and a soft matte finish. The formula is light, so velvety and smooth that it might cause addiction and makes you wanna swatch it so often. It's a perfect matte texture, without shimmer, shine or any kind of particles.
It applies easily and blends just as easy, it adheres well on the skin, without any fall-out or creasing. MustaeV Pink Bikini is pigmented, bright with a good color payoff, the kind of shade that looks bright and intense on the eyelid and will instantly ads freshness to your makeup look.
The special powder formula absorbs sebum so if you have oily lids the this is something you should consider when you purchase eyeshadows. It has a long lasting formula which also maintains a hydrating feel.
The packaging is simple and easy to use  like all the MustaeV eyeshadows which come in a small rounded black plastic case with a transparent cap that snaps shut.
I had more than 8 hours wear of this color without fading, creasing or fall out.
If you can take a look at my recent Lovely Pink Summer Look (tutorial, photos) if you want to see how MustaeV Pink Bikini Eyeshadow looks.
Enjoy more photos…
MustaeV Pink Bikini Eyeshadow Swatches LEFT: without primer RIGHT: over TFSI primer