Hello pretties!
MustaeV Peacock Eyeshadow is the final shade that will complete my beloved MustaeV 24 Eyeshadow Palette (review, photos) and it's so easy to depot it (video, tutorial). I was so surprised to see that MustaeV Peacock is a perfect dupe for Urban Decay BlackHeart eyeshadow (review, swatches) but has a more reddish tint. It's a very elegant and versatile shade, the kind of eyeshadow that can be used on festive, dramatic and bold looks but also paired with cream eyeshadows and colorful bases to create a different appearance.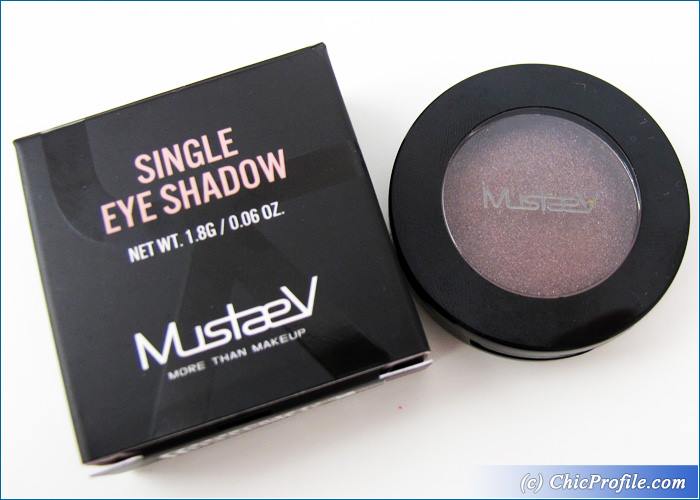 Where to buy:
U.S. & Worldwide – @mustaevusa.com (15% Discount using discount code: chicprofile), @mustaev.co.kr (International Shipping)
MustaeV Peacock Eyeshadow ($13.00 for 1.8 g / 0.06 oz) is officially described as a dark brown shadow, with a hint of red, infused with a brilliant deep red, dark burgundy and gold glitter that provides a velvety smooth application.
I see it like a very dark reddish brown with very fine burgundy, red and gold glitter that creates beautiful reflexes depending on the angle the light hits. It's a shade that's pretty difficult to describe, but definitely a versatile one, the kind of shade that allows you to create endless looks by pairing it with different bases.
It has a silky texture but you can still feel the glittering particles so is obviously not that smooth or buttery. It adheres amazingly well onto the skin, but obviously an eyeshadow primer or a creamy base is recommended to make the shimmering particles stick better and longer. Applied without a primer I did get some fall-out, but very minor.
The color is highly pigmented, a true intense shade applied with or without a primer. The formula is long-wearing, so the color doesn't fade after 10 hours and doesn't show signs of creasing.
It gives a non-drying feel and the sebum absorbing powder makes it a great eyeshadow for those with oily lids like me.
The packaging can be well seen in the photos bellow and you already know by now how much I love the easy opening of the cardboard box that hosts the black rounded plastic eyeshadow case. It's very easy to use, open and hold and even more easier to depot and place it in your metallic eyeshadow palette.
Enjoy  more photos…