Hello pretties!
As we are getting deeper and deeper into the summer I don't want to miss out on showing you the shades I'm currently wearing and MustaeV Cheeky Chic Blush in Light Coral is one of them. I told you that MustaeV added two new shades (swatches, photos) in their permanent portfolio of products and their timing couldn't have been better. One of them is Light Coral while the other is Baby Pink Silky Cotton Loose Powder (upcoming review). My kind of blush shade is a luminous pink, but my second option is a light coral, which goes extremely well on my complexion especially during the summer season when I get a bit of tan. 🙂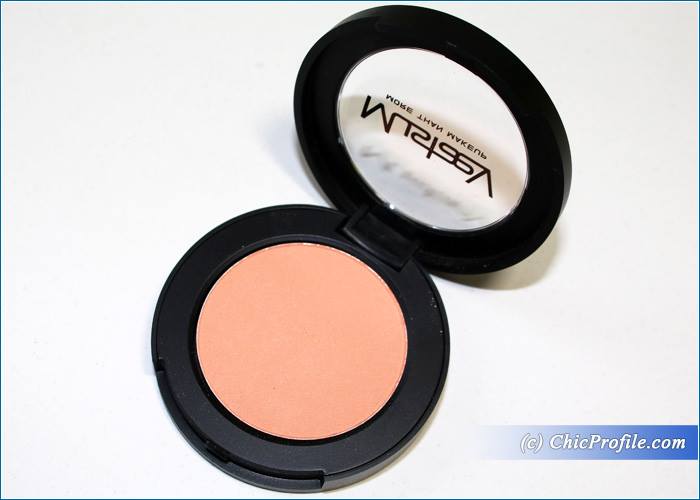 Where to buy:
U.S. & International – Now @mustaevusa.com (15% Discount using discount code: chicprofile) Worldwide Shipping, @mustaev.co.kr 
Light Coral Cheeky Chic Blush (4.5 g / 0.15 oz for $20.00) is a new and permanent shade joining the other two shades in: Floral Glow (review) and Odd Pink (review). Light Coral is a very light, luminous peachy-coral with warm undertones and a soft matte finish. It had a good color payoff but without looking too intense or pigmented as MustaeV being a Korean brand has its colors mostly suitable for fair, to light and medium skin colors.
It's the kind of blush color that will complement most skin tones (it might look to light on you if you are too dark) especially those fair complexions. It doesn't come on to hard, but it does show the color in one swipe and can be easily buildable in several layers up to a medium intensity. With MustaeV blushes you will always get that flush of color with a natural aspect so you can't really over do it. Whenever you want that freshness on your cheeks, MustaeV blushes are the way to go but if you are looking for something more night time appropriate and highly pigmented I would definitely choose another one.
I can't stress enough the fact that Chic Blushes have one of the most amazing formula I've encountered so far, they are highly addicted….I told you I kept swatching them just I can feel the texture. It has this super smooth, silky texture with a light feel that goes on gently to your cheeks, without any fall out during the application.
It's a powder blush nonetheless but the sebum control powder absorbs sebum (YAY for those who have oily/ combination skin) and keeps the color look vivid and fresh for a long time. Coating pigment protects the color from changing due to external factors.
It was more than once, when I got complemented on the freshness of my makeup and was asked what products I've been using on my face and the answer was always MustaeV Blushes, their Skinny Tint Foundation (review, swatches) and Silky Cotton Loose Powder (review, swatches).
Light Coral Cheeky Chic Blush adds a bit of freshness and light peachy shade on my cheeks, showing a matte finish and doesn't emphasizes my pores and it doesn't look powdery at all. It's the kind of shade that I can apply on a casual day for a natural and luminous look and it's easy becoming my go-to summer blush. It warms up my entire face right away after I apply this blush and gives me that beautiful, natural finish.
I had around 7 to 8 hours wear with this formula before it tended to wore off.
Enjoy more photos…