Hello pretties!
For me this fall is all about a colorful eye makeup and dark, mysterious and edgy colors for the lips, so I thought of introducing MustaeV In The Club Eyeshadow which has been often seen in my makeup looks this season. You'll probably find it strange that I'm all of the sudden into blue, green and other shades that were not even on my list a couple of months back…but the truth is not that I've given up to my pink and purple obsession but I've decided to add a little bit more color to makeup looks and play with the colors that I was usually ignoring.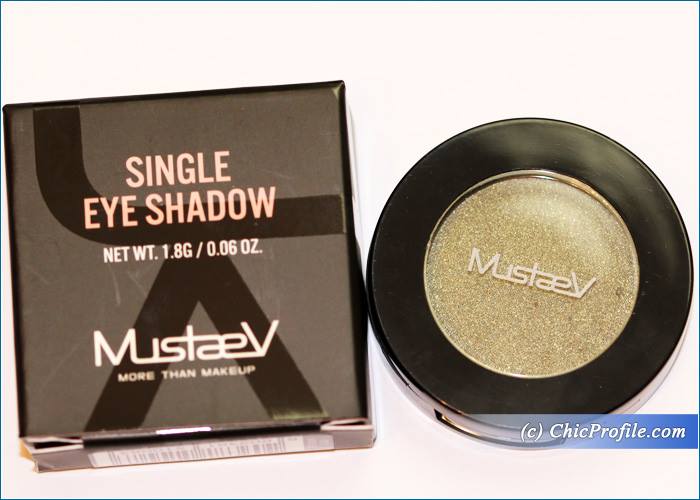 Where to buy:
U.S. & Worldwide – @mustaevusa.com (15% Discount using discount code: chicprofile), @mustaev.co.kr (International Shipping)
MustaeV In The Club Eyeshadow ($13.00 for 1.8 g / 0.06 oz) is officially described as a golden-olive shadow infused with shimmering gold glitter that provides a velvety smooth application. It's a medium green-yellow with subtle gold shimmer and a pearl finish.
It has a good pigmentation, great color payoff even on bare skin but is not the kind of color that looks intense and overly pigmented and I don't think it was even meant for a heavy pigmentation. It adheres well even on bare skin but I definitely recommend using an eyeshadow primer before the application so you'll make this golden-olive shade pop. Just pack on the color onto your eyelid and make sure to tap off the excess from your brush prior the application so you'll not have any fall out…those gold shimmering particles can be tricky.
The texture is fine, yet not very smooth to the touch I'd say since it does show of shimmer and it's a glittery color, but it's very easy to work with. It applies wonderful on the lid, blends easily and provides a sparkling luster. I'd choose this color for an evening makeup and so many times I've applied it right in the center of my lid for a pop of golden sparkle. It pairs wonderful with warm colors, coppers and browns but works well with blue and gold shades as well.
It doesn't feel dry for a second, it's long lasting and crease free so you'll have a perfect makeup for the entire day.
I had about 9 hours wear with this color before I noticed slightly signs of fading.
Enjoy more photos…