Hello pretties!
You should already know by now how dear MustaeV is too me as I truly love everything I tested from this brand so far. With MustaeV is always more than makeup and every blogger out there must know this. Recently my MustaeV collection got even bigger as I got a couple of new products, four pink eyeshadows, a liquid liner pen, a new color powder moonlight which works as a pigment, a brow pencil and as a surprise an empty eyeshadow quad.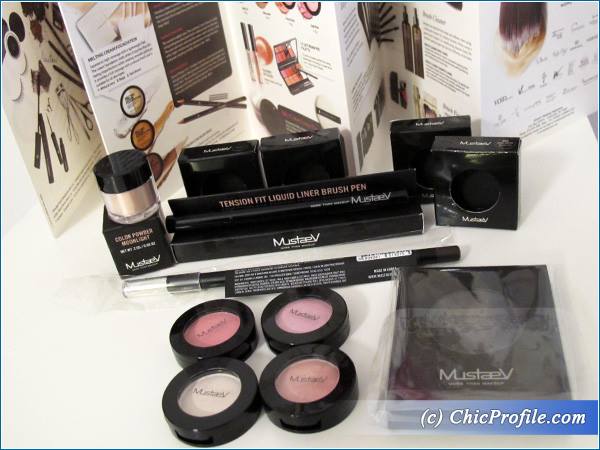 Availability
International – @mustaevusa.com (15% discount using code: chicprofile), @mustaev.co.kr (International Shipping)
Needless to say that I'll be reviewing each of these items separately in the upcoming days as I've been testing and wearing them for the past two weeks. Last weekend I also did a MustaeV Pink Summer Makeup Look using mostly Mustaev makeup products and I shall post the tutorial later today.
If you haven't tried this brand yet I truly recommend you start with their eyeshadows, especially those with a pearl finish (my favorite) as they are so unbelievable pigmented, offering a high color payoff swatched even without an eyeshadow primer and not to mention that highly addictive super soft texture.
So this time around I got MustaeV Dazzle Pink, Lovable, Pink Dress and Pink Bikini Eyeshadows (13$ for 1.8 g) all from a happy pink color family together with MustaeV Color Powder Moonlight Champagne ($15.00 for 2.5 g) truly a multi-use product that can work as a pigment, eyeshadow or blended and mixed with other powder products to create a three-dimensional glow.
Just in time before I finished my MAC Lingering Brow Pencil I got MustaeV Silky Sketch Brow Pencil in Gray Brown ($13.00 for 1.4 g / 0.049 oz) a new compressed powder pencil that lasts all day.
I don't have a steady hand so I've always preferred liquid liner pens as they give me more precision and they are more forgiving with the application so the new MustaeV Tension Fit Liquid Liner Brush Pen in Perfect Black ($18.00 for 0.6 g / 0.02 oz) has quickly became my favorite.
I saved for last the preview for MustaeV Quad Shadow Palette ($5.00) which unlike MAC Quads has a mirror included along with a duo-sponge eyeshadow applicator which may come in handy when you are on the go. The MustaeV Palette comes with precise instructions and photos on how to depot MustaeV eyeshadows and I was truly amazed by how easy the entire process is. Over time I've watched dozen of tutorials on how to depot your eyeshadows and it always seemed so difficult to me when I saw I had to use a flat iron, scissor and so many other items. With MustaeV you won't believe how easy it's to depot your eyeshadows as you need only a hair clip. 🙂 I already have 14 MustaeV eyeshadows and I can't wait for MustaeV 15 Empty Shadow Pro Palette ($15.00) to be released as I want to keep all "my babies" together.
If you are interested in finding out more about any of these products don't forget to keep checking my blog as I will return with individual reviews but until I do please take a look at the photos bellow and check out those swatches and let me know what do you think. 🙂