Hello beauties!
A professional makeup brush can really make the different between a pretty makeup and a flawless makeup that can be achieved even by the most inexperienced women in the art of makeup. With MustaeV Easy Go Medium Shadow Brush things are so much easier when it comes to applying eyeshadow on the lid or packing glitter or pigments, as this tiny professional eyeshadow brush does an amazing work, simplifying any makeup techniques and making things so much easier.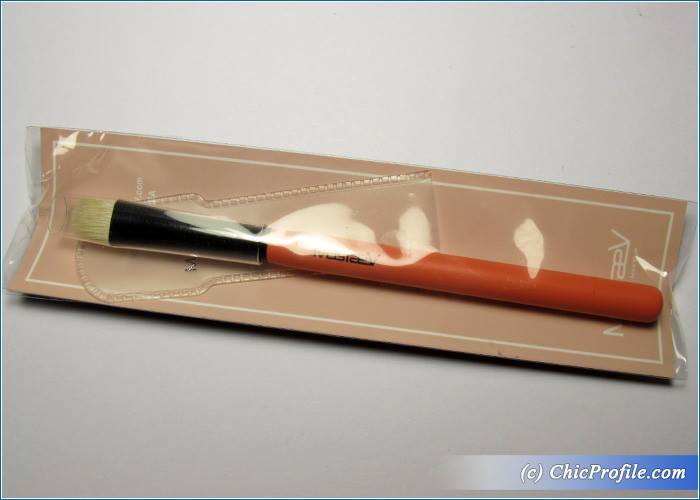 Availability
U.S. Launch Date – Now @mustaevusa.com (15% Discount using code: chicprofile), @mustaev.co.kr (International Shipping)
MustaeV Easy Go Medium Shadow Brush ($17.00) is made of high quality goat hair that provides superior blendability with an intense and even color application. It's available in two variations: The Chocolate and So Pink and it's easy to see which one I'm reviewing today.
This is the only travel friendly eye shadow brush that I own and I especially requested it as I was so curious to see if a small size brush like this has the same high qualities and offers the same eyeshadow application as a normal brush would. I'm planning on traveling a lot in the upcoming weeks so I'm trying to build a collection of small size, travel friendly brushes like this one and the other MustaeV Easy Go Angled Contouring Brush (review, photos).
First of all, I definitely like the design, the pink handle made from Birch Wood is resistant to chipping and allows for a steady application, not to mention is very easy to hold and would be great for those who have small delicate hands. The MustaeV Easy Go Brush has a durable black Aluminum ferrule that gives a luxurious glossy effect and light weight for convenient portability.
The brush has a round tip with high quality bristles made of soft, natural hair which allows the eyeshadow to be applied smoothly, easily and evenly. I used MustaeV Easy Go Medium Shadow Brush to apply eyeshadow, pigment, glitter and even cream eyeshadow. It's perfect to pack on eyeshadow, blend small to medium eyeshadow areas and create a beautiful natural or intense smoky eye makeup look.
I've been using this brush for about 3 months now and I've washed it numerous times and the bristles are in perfect condition. It doesn't shed hair and the bristles were not deformed after washing. The brush comes with this amazing and useful Head Protector ($1.00) which you can simply glide on over the brush to shield the bristles when you're not using the brush and you keep it your brush holder. This head protector can really prevent deformation of the bristles, especially when you travel or when you are putting your brushes all together in a pouch and they are so close together. It also prevents cross-contamination between cleanings.
MustaeV makeup brushes are always high quality and I truly recommend them for professional use if you are a makeup artist and for personal use if you desire to achieve an easy and beautiful eye makeup.
If you are not familiar with the brand I invite you to check out my MustaeV makeup collection (video) along with my impressions and see what are the products I'm loving the most.
Enjoy more photos…