Hello pretties!
Over the past few weeks I enjoyed the softness of MustaeV E23 Large Fluffy Shadow and E55 Blending Shadow Brushes on my skin. I was no stranger to the quality of MustaeV Makeup Brushes (info, how to choose your brush, photos) as I own a couple of them for quite a few years, so everytime I get a new brush is like a new confirmation of my love for this brand. My collection of makeup brushes is dominated by MAC brushes so this review is based on a comparison between these brands.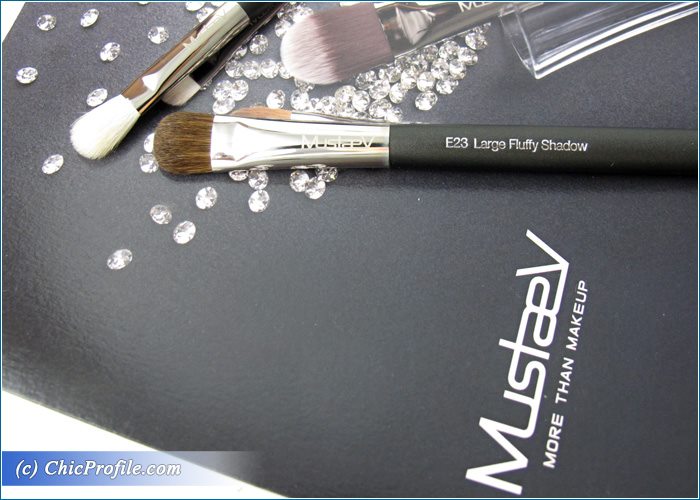 Where to buy:
U.S. & Worldwide – @mustaevusa.com (15% Discount using discount code: chicprofile), @mustaev.co.kr (International Shipping)
MustaeV E55 Blending Shadow Brush ($30.00) is an oval medium-sized brush made of soft, elastic natural hair. It's the perfect brush when it comes to blend your eyeshadow or create depth. I also like to use it from time to time to spread an even color on my entire lid, but with a more soft look. When I want to use a darker eyeshadow color and pick up MustaeV E55 Blending Shadow brush the result will be a more softer, not so pigmented shade.
It has very fine, white soft bristles and a long skinny handle that fits perfectly in my hand. Compared with MAC 217 ($25.00), MustaeV has a longer handle, much softer and flat bristles. I like it more blending my eyeshadows with MustaeV E55 rather than MAC 217 as it gives me a more softer eyeshadow result in less time with less moves. I find that the quality of MustaeV E55 is better than MAC 217 which is reflected in the +$5.00 price difference.
I already used it and washed it dozen times and it gets cleaned just as easy as the other makeup brushes. When I'm in hurry I like to use my MustaeV Brush Cleaner Spray (review, photos) ($16.00 for 200 ml / 6.75 fl oz) with its anti bacterial formula, which quick dries and conditions brushes.
MustaeV E23 Large Fluffy Shadow Brush ($31.00) a large brush without a round rectangular tip made of soft, full natural hair. I use this brush for applying eyeshadow on my lid, for a pigmented, richer effect. I used to compare this brush with MAC 239 Eye Shader Brush ($25.00) which I'm using it for the same purpose. MustaeV E23 is considerably wider than MAC 239, has longer and larger bristles.
The brush has very soft and smooth bristles which really turns each eyeshadow application into a pleasure. It picks up the eyeshadow and transfers it well onto the lid, without any mess or fall out. It has a longer and considerably thicker handle than MAC 239 brush, which really got me some time to get used to it. I admit that this brush may look a bit hard to handle at first for those who have small hands and especially if you are used to a thinner handle brush like the one MAC 239 has.
I also like to use it for blending eyeshadow in my crease as it does a good job. It's very easy to clean it, with a brush cleaner spray or a gentle shampoo. It dries pretty fast and all the bristles remain closely together once it dries.
I told you so many times how much I appreciate that MustaeV also offers these transparent plastic protectors ($1.00 each) which prevents deformation of the bristles and cross-contamination between cleaning. I have a head protector for each of my MustaeV brushes which helps me to keep them in top shape. It's so easy to just pull the brush downward to remove the protector and start using the brush. It won't stick to the bristles and will act like new every time, because of its elasticity that prevents it from loosening up.
Enjoy more photos…