Hello sweeties!
If MustaeV Glazing Lip Glosses have a downsize, is that they have only two shades available…Clear, that I'll be reviewing today and Golden Peach (review, swatches) one of my all time favorite gloss shades. Yeah, you got that right, only two shades for this amazing product…but I'm still waiting for MustaeV to come up with a gorgeous pink.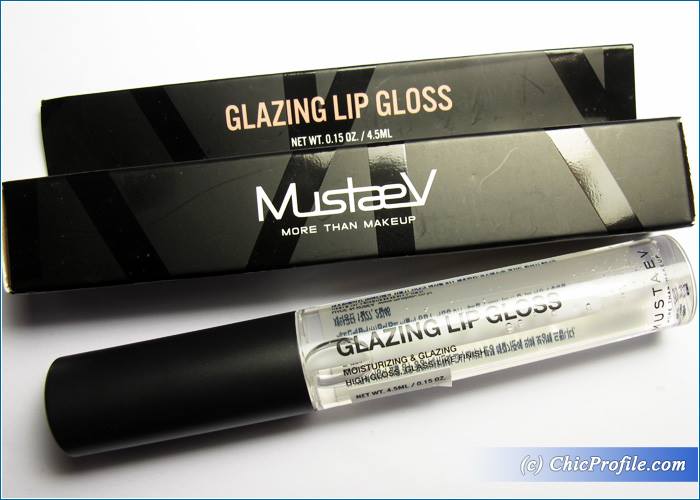 Availability
U.S. & Worldwide – @mustaevusa.com (15% Discount using discount code: chicprofile), @mustaev.co.kr (International Shipping)
MustaeV Clear Glazing Lip Gloss ($18.00 for 4.5 ml) is a clear shade with lustrous shine, without any shimmer. Why does a clear lip gloss needs a review? Because it's a versatile product, that I like to use it not only on the lips but also on the eyes.It's true that it doesn't change your lip color, but it ads this super glossy veil to your lips, without settling into the lips lines, on the contrary, making your lips look healthier, fresh and plum.
Not to mention that a clear lip gloss is a perfect choice, whenever you want to look absolutely natural, but still want your lips to look glossy. For me this is the glamorous version of a lip balm, as it keeps my lips moisturized while it gives me that gorgeous wet-lips effect, making them look plump. It instantly conditions and moisturizes dry lips, so whenever you have dry, chapped lips and you can wear MustaeV Clear Glazing Lip Gloss on its own or applied over your favorite lipstick color.
A clear lip gloss can be a great addition to any matte lip color, that's if you want to transform the matte finish into a glossy, lustrous one, without changing the color.
It has a lightweight formula, non-tacky, non-sticky consistency, that will glide easily across your lips without being slippery.
I also like to use it on my eyelids,  as a pop of glossiness right on the center of my lid. I especially tried pairing this with my new Tom Ford Night Sky Cream and Powder Eye Color (upcoming review), applied just a bit over the cream product. It gave my makeup that gorgeous glossy wet-look makeup effect, perfect for a night out or whenever you want something for dramatic and with a brilliant effect.
The product comes in a transparent tube with a black cap and a doe-footed applicator.
The formula lasts on me for about 3 hours, while it keeps my lips moisturized. Once I eat most of the glossiness tends to wear off, but I can still feel my lips soft and quite hydrated.
Enjoy more photos…