Hello pretties!
MustaeV enters the summer season with two new and permanent shades for their Loose Powder and Cheeky Chic Blush. I'm talking about 02 Baby Pink for the Silky Cotton Loose Powder and Light Coral for the Chic Blush and they are going to be permanent shades. I couldn't be more excited about these new shades, as I already have the other shades from the range and if you are interested you can see look for the reviews on my blog.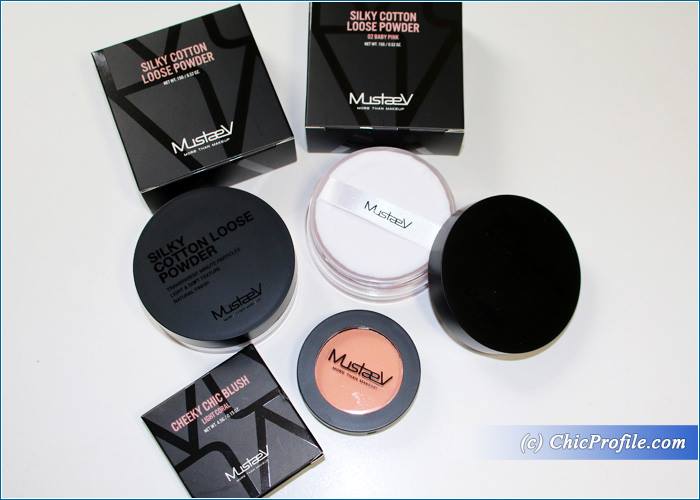 Where to buy:
U.S. & International – Now @mustaevusa.com (15% Discount using discount code: chicprofile) Worldwide Shipping, @mustaev.co.kr 
Silky Cotton Loose Powder (15 g / 0.52 oz for $25.00) is available in the new shade Baby Pink and the classic Translucent shade (review, swatches, photos). This powder is must have to complete your makeup look and especially for those who have oily or combination skin types as it removes sebum and keeps your skin looking fresh throughout the day. I will give you a proper review in the upcoming days but I just wanted you to have a first look at the new shade.
Cheeky Chic Blush (4.5 g / 0.15 oz for $20.00) is available in three shades which are all permanent: Light Coral (New), Floral Glow (review) and Odd Pink (review). As I told you back then, when I first touched and felt the consistency of MustaeV Blushes, my thoughts are still the same…as they have one of the finest consistency with a super light and velvety feel when you swatch or apply them on your cheeks. It had become addictive to swatch these blushes so I'm making sure that they are in my makeup drawer instead of laying around on my desk. 🙂
This new light coral shade is super friendly with light and medium skin tones and suitable for a fresh summer look. You can definitely try and build up the coverage to get more intensity but is not the kind of color blush that will look so pigmented on your cheeks. The entire idea is that it gives you a natural finish and glow so your makeup never looks overdone. Take a look at the swatches bellow while I'm preparing my detailed review with more photos and information.
Enjoy more photos…