Hello pretties!
Here comes Make Up Factory Sahara Sunset Collection which was inspired by the breathtaking beauty of a desert landscape. The new summer 2015 bronzing Make Up Factory Sahara Sunset Collection offers new and limited edition makeup products in a variety of colors inspired by the sand dunes so we get too see earthy brown, green and beige tones for eyes and warm shades of red for lips. I could definitely imagine myself lost in a desert dream with a sense of freedom and adventure and this stunning desert look is definitely gorgeous for all skin tones.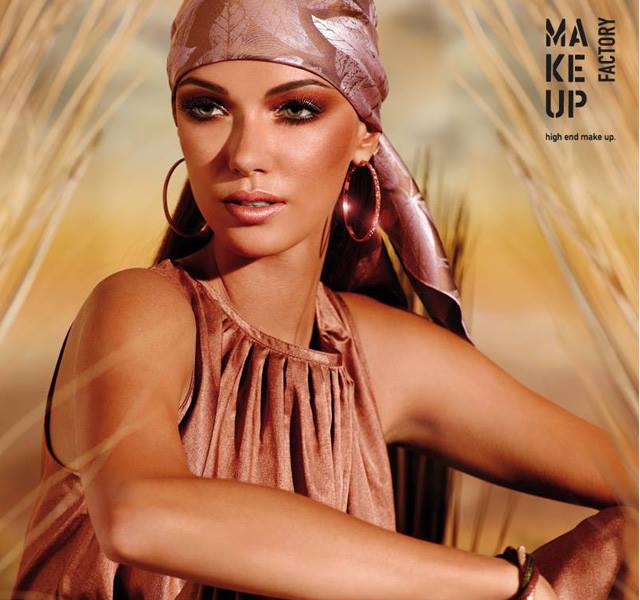 Availability
International Launch Date – mid March 2015 at Muller perfumeries
Make Up Factory Sahara Sunset Summer 2015 Collection
Sun Teint Powder – New & Limited Edition
Sun Complexion Powder is composed of three colour nuances, which are selected for their harmonious colour play. The powder gives your skin a delicate natural tan. Thanks to various shading intensities, you can adjust your tan. The intensity of the tan also depends on how much powder you apply. Top quality minerals from topaz and quartz create the silky lustre of your tan. Contains vitamin E; lanolin-free; suitable for every skin type; dermatologically confirmed skin compatibility.
Eyeshadow – New Shades – €13.50
No.22F Bronze Dune
No.32D Red Desert
No.39 Sahara Beige
No.46 Green Terra
Luxury Glitter Cream – New
This highlighting glitter cream creates metallic glitter effects on your face, neck, and décolleté. The gel-like texture makes it easy to apply the cream evenly. Luxurious, light reflecting glitter particles settle on the skin like crystal dust. The particles adhere well to the skin and do not fall off.
Calligraphic Eye Liner
The calligraphy tip of the Calligraphic Eye Liner with its extra-fine synthetic fibres makes it easy to create extra-fine precise eyelid lines. The richly pigmented eye-liner guarantees jet-black eyelid lines and a long wear time. The soft tip makes the liquid eye-liner simple and flexible to use. It is possible to create eyelid lines from ultra-fine to very wide. Free of perfumes. The dermatological tolerability was confirmed.
Deep Black Volume Mascara
Deep Black Volume Mascara with its jet-black pigments gives eyelashes maximum volume and intense colour. You will love the luxurious texture. The panthenol in Deep Black Volume Mascara strengthens the eyelashes while special polymers and conditioning waxes keep your eyelashes supple and shiny. Suitable also for women with sensitive eyes and for contact lens wearers.
Glossy Lip Stylo – New Shades
No.13 Sahara Red
No.25 Natural Rose
Enjoy more photos…