Hello pretties!
Make Up Factory presents its holiday 2016 makeup collection, Dark Elegant of a Swan featuring darker shades with a metallic effect.
The lights are dimmed and the orchestra starts playing the first bars – the ballet gives rise to magical moments and the graceful dancers draw the audience under their spell. With its new collection Dark Elegance of a Swan, Make up Factory has captured this mysterious atmosphere. Dark blue to black tones, fascinating shimmer effects and intensive colors with metallic effect conjure up an exciting and glamorous look.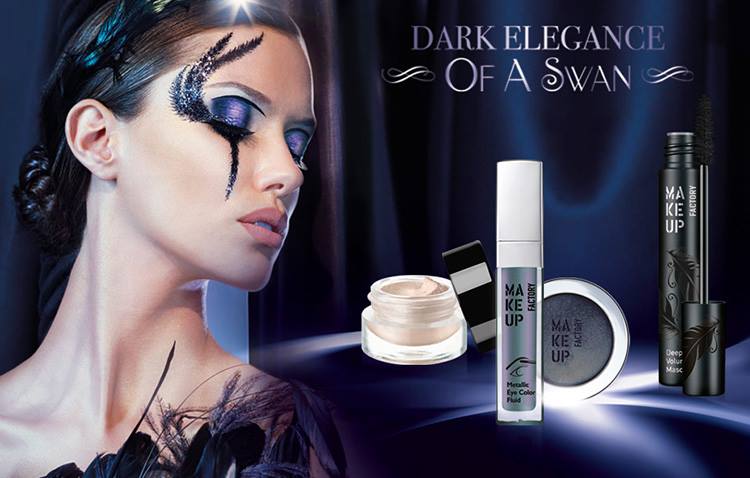 Availability
International Launch Date – November 2016 at Muller
Make Up Factory Holiday 2016 Dark Elegance of a Swan Collection
Illuminating Skin Perfector
The light reflecting liquid gives the complexion a radiant appearance and a subtle, mysterious glow. The skin perfecter contains subtly shimmering Spectra Flex® Focus pigments, which coat small skin blemishes, lines, and wrinkles. The pearl-like texture optimally adapts to every skin tone. The skin will be silky smooth and radiant for a fresh and young appearance. Fragrance and paraben free.
Cashmere Shimmer Mousse
The velvety soft mousse with shimmering particles ensures a fresh glow and even, silky finish. The airy and light mousse texture virtually melts into the skin and is easily blended. Fragrance-free. Skin compatibility is dermatologically approved.
Luxury Glitter Cream
This highlighting glitter cream creates metallic glitter effects on your face, neck, and décolleté. The gel-like texture makes it easy to apply the cream evenly. Luxurious, light reflecting glitter particles settle on the skin like crystal dust. The particles adhere well to the skin and do not fall off. Free of perfumes.
09 Desert Rose
11 Silver Rose
Eye Shadow
01 Black Feathers
72 Darkest Blue
75 Blue Ballet
Metallic Eye Color Fluid
Metallic Eyes: breathtaking, beautiful eyes with a metallic shimmer fascinate and underline the individuality of every woman. The iridescent fluid perfects every look and lends a touch of elegance and glamour. The intensive shades guarantee high coverage and a long-lasting finish without flaking! The particularly creamy, silky texture can be applied quickly and easily.
05 Liquid Silver
16 Metallic Rose
20 Iridescent Pink
28 Iridescent Blue
Metallic Eyeliner
33 Silver Spotlight
72 Graceful Rose
Deep Black Volume Mascara
Liquid Eye Liner
Liquid Eye Designer
Lip Color
Shimmer Lip Stick
Enjoy more photos…