Hello beauties!
MAC Cosmetics has tweeted a few hours ago the first promo image of their upcoming Marge Simpsons inspired collection so it's time for more than just a sneak peek. The new MAC The Simpsons Fall 2014 is a 10-piece collection which will be available in a limited edition.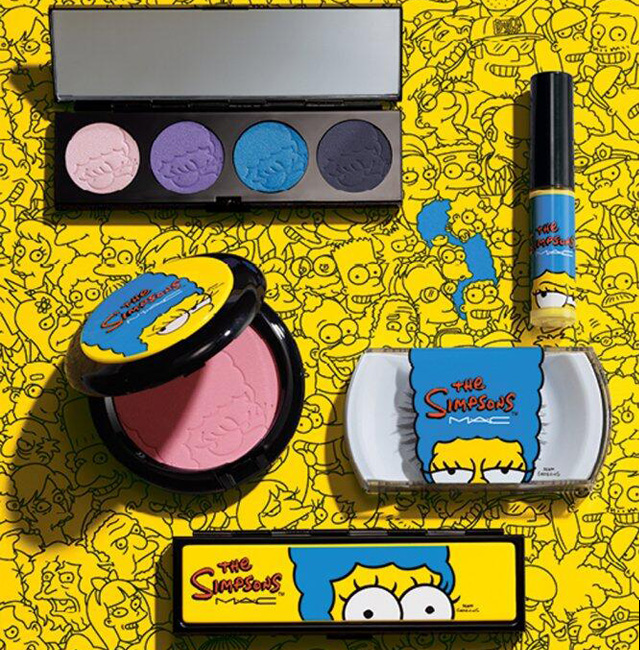 On the occasion of their 25th anniversary, M•A•C celebrates everyone's favourite animated family, The Simpsons, with a vivacious colour collection that can only be described in one word: Eeeeexcellent. Debuts this fall.
Availability
U.S. Pre-Launch Date – 26 July 2014 (one day  only) at the 234 Fifth Avenue, San Diego store during Comic-Con
U.S. Launch Date – 28 August 2014 @maccosmetics.com | 4 September 2014 at MAC Locations
International Launch Date – September 2014 at MAC Locations
MAC x Marge The Simpsons Fall 2014 Collection will feature nail stickers for the price of $16.50, Simpsons  Eye Shadow Palette which retails for $44.00, a few lip gloss and of course an yellow shade ($16.50), blushes, and finally false eye lashes ($18.50).
I'm back with new info thanks to Erine1881 from Specktra.net who provided the color story of this collection.
Lipglass – Limited Edition – $16.50 / 97.00 Lei

Nacho Cheese Explosion – Bright neon lime yellow (New)
Grand Pumpkin – Bright creamy orange (New)
Red Blazer – Bright fuchsia (New)
Itchy & Scratchy & Sexy – Electric blue violet (New)
That Trillion Dollar Look Quad – New & Limited Edition – $44.00/ 206 Lei

Lisa's spikes – Lime green (Frost) (New)
Apple squished – Mid-tone kelly green (Frost) (New)
2 dozen and one greyhounds – Mit-tone olive green (Veluxe pearl) (New)
Chalkboard dreams – Deep blackened teak (Velvet) (New)
Marge's Extra Ingredients Quad – Limited Edition – $44.00/ 206 Lei

Harpooned heart – Light baby pink (Lustre)
Sexy PB & J – Mid-tone bright violet (Veluxe pearl)
Beehive blue – Mid-tone bright blue (Veluxe pearl)
Vivacious Vacuum Cleaner Bag – Deep navy (Frost)
Powder Blush – $24.00/ 114.00 Lei

Pink sprinkles – Cute blue pink (Satin) (New & LE)
Side spray – Light peach coral (Satin) (New & LE)
Nail stickers Marge Simpson's Cutie-cles – New & Limited Edition – $16.50
Lashes – $18.50 / 75.00 Lei

7 lash – natural length, everyday glamourous (Repromote)
Are you excited about this collection? Any thoughts so far? 🙂