Hello pretties!
For a few months I've been enjoying the gorgeous color of MAC Vino Lip Pencil and I've been pairing it with different lipstick shades and textures. It's part of the permanent collection so you'll find it available at your local MAC counter anytime. I discovered it last year when I did some shopping at MAC and also bought Liptensity Lipstick in Burnt Violet (review, swatches), a shade that would definitely need an investment into a new lip liner color. MAC Vino was a perfect match for Burnt Violet, but for other shades as well so it became a one of the most used lip pencils from my collection in the past few months.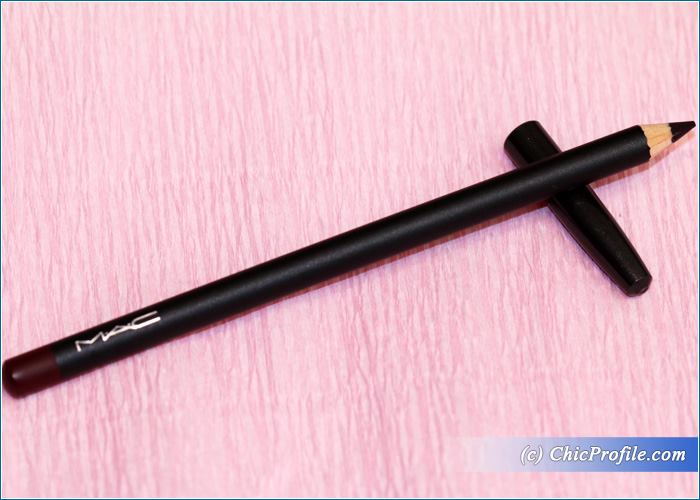 Where to buy:
Now at MAC counters and online @maccosmetics.com
MAC Vino Lip Pencil ($17.50 / 71.00 Lei for 1.45 g / 0.05 oz) is officially described as an intense violet-purple. I see it as a medium-dark cool toned burgundy with a touch of purple and a matte finish. It has a good color payoff and it comes very close to a full opacity on the lips. It provides a burst of color in just one swipe and glides easily across the lips but it feels a bit dry at the same time.You can use it for shaping, lining or filling in your lips and makes quite a good lip base for laying on matte lip colors. I personally like its matte effect and wear it on its own sometimes, but I won't deny that it emphasizes lip lines and makes them look a bit dry after two hours wear.
It has a firm tip and it's perfect to line your lips and create a flawless cupid's bow. You just need to sharpen the pencil and get that crisp line every time. I had around 5 hours wear with this lip color with a little bit of stain behind. It goes well with a multitude of colors, like MAC Plumful or Liptensity Burnt Violet, but any other deep wine, burgundy or violet shade will be a great match.
Enjoy more photos…