Hello beauties!
MAC Studio Sculpt Defining Powders have been released in eight shades as part of MAC Studio Sculpt Fall 2014 Collection (info, photos). Recently I received from MAC Romania the Medium Plus shade, which is situated on the spectrum of colors right there in the middle but since I have a light skin tone I was afraid that this will not look great on me so I was a little bit skeptical when I first gave it a try.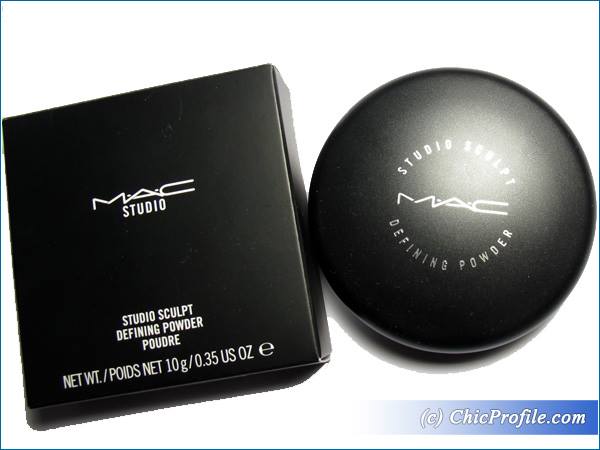 Availability
U.S. – Now at MAC Locations and online @maccosmetics.com
Romania – Now at MAC Stores
MAC Medium Plus Studio Sculpt Defining Powder ($32.00 for 10 g / 0.35 US oz) is a gel-infused powder in a very natural shade, suitable even for those with light skin tones like me. It gives a natural finish, and has a super sheer color coverage that gives you the feeling that you are not wearing any powder at all.
You won't find any swatches bellow just because even though I applied several generous layers of MAC Medium Deep, I couldn't see the color building up and it would look just the same as my natural skin in photos. Either swatched on my hand or applied with a powder or kabuki brush on my face, the feeling was the same, like I wasn't wearing anything on my face. If you're asking if this is a bad or a good thing, I would simply reply that MAC Studio Sculpt Defining Powder is not meant for color but you'll definitely noticed how your pores are looking smaller, how it evens out your skin tone giving you a natural finish.
This is the kind of powder I would apply if I want that natural, day to day, "no-makeup" makeup look. It smooths away small imperfections, it keeps oiliness under control so even though temperatures are crazy outside, your complexion will be shine-free.
The formula is super-fine, delicate and smooth, easily blendable and looks so natural on the skin. MAC describes it as a long-wearing gel-infused powder that starts out as a liquid-gel and dries to its powder form to give it a unique creamy feel.
Since I received this product only a month ago when summer was already settled here, my favorite way of using this Studio Sculpt Powder is to wear it applied over a SPF moisturizer when I go out during the day. I also test it several times as a setting powder applied over my foundation to stabilize my makeup but since during the summer I like to keep my makeup routine as simple as possible, I prefer the first option more.
The packaging is simple and looks professional, as the powder comes in a black rounded plastic compact with a mirror encased, a helpful tool for retouching your makeup if your are on the go.
Enjoy  more photos…