Hello pretties!
Collistar launches new products this season. No, I'm not talking about Collistar illy Collezione Caffe FW 2017 Collection but some other newness. Collistar Long Lasting Matte Foundation along with Art Design Matte Lipstick line are making an entry this month and joining the permanent collection. Take a look!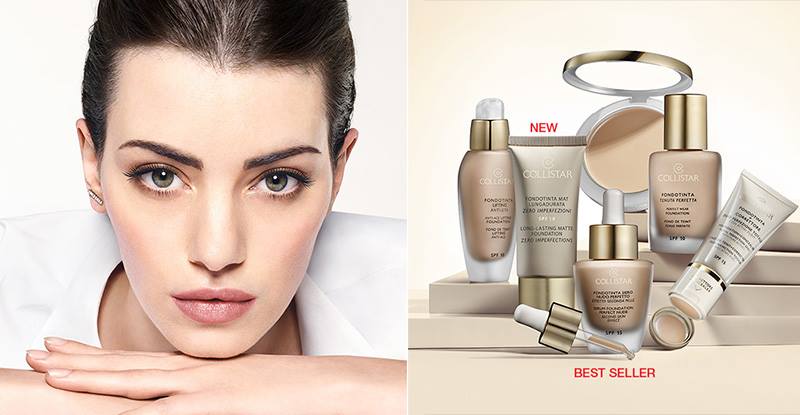 Availability
International Launch Date – October 2017 at Sephora
Collistar Long Lasting Matte Foundation – New (30 ml)
Research and high-tech cosmetics come together in this exclusive foundation that provides •impeccable makeup and record hold •a perfect complexion •a natural and bright matte finish •a smooth face •maximum comfort •a targeted protecting treatment action . A foundation with a fluid, oil-free texture, with a light and velvety touch that also provides perfect coverage, blending into the skin with a totally natural matte effect that smooths and perfects. The complexion is instantly even and radiant, imperfections and fine lines are minimized, pores and the skin's texture appear improved, and, with the help of the rebalancing properties of Red Clover, the face stays silky and matte the whole day long. – Soft-focus effect perfection. The perfecting action is enhanced by the ultra-fine soft-focus powders that fill and flatten out fine lines refract light, optically transforming the appearance of the face. – Perfect colour, 'tailor-made' coverage, very long hold. Selected pigments provide natural, even colour. Special elastomers allow you to blend the foundation as you wish to achieve the desired coverage, for tailor-made make-up that lasts all day long without the need for touch-ups. – Super-protected, moisturized skin. To provide an effective treatment action and to protect from free radicals and photo-aging, the formula contains UV filters, vitamin E and lauroyl lysine. Suitable for all skin types, including combination and oily skin.
Shades:
0 Cameo
1 Avorio
2 Beige
3 Nude
4 Sabbia
5 Miele
6 Nocciola
Art Design Matte Lipstick – New
You'll get an excellent application with a long-lasting, matte finish. The formula doesn't dry your lips and keeps them soft and smooth throughout the wear.
Shades:
01 Rosa Nudo – pink nud
02 Marron Glacè – cold light chestnut
03 Rosa Azalea – pink fuchsia
04 Rosso Spritz – bright red
05 Rosso Passione – red
06 Rosso Diva – dark red
Enjoy more photos…