Hello pretties!
There's a new trend going on with these new MAC Retro Matte Liquid Lipstick colors and I thought of showing you another shade of my collection. I got this last year and I've been wearing only two or three times, so here goes my review. MAC Retro Matte Liquid Lipsticks are know to burst with color, being extremely pigmented and drying down to a total matte finish. For me the dryness feeling is what it bothers me in a matte lip color so keep on reading to see how I got along with MAC Rich & Restless color.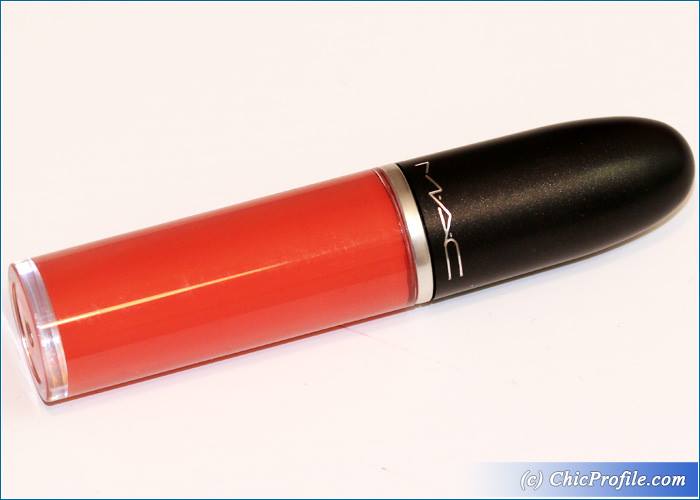 Where to buy:
U.S. – Now at @maccosmetics.com
International – Now at MAC Locations
MAC Rich & Restless Retro Matte Liquid Lipstick ($21.00 / 107.00 Lei for 5 ml / 0.17 fl. oz.) is officially described as a "mid-tone pinky salmon." It's a light to medium, orange-coral with warm undertones and a matte finish. It shows a super rich color, excellent pigmentation and comes almost opaque on the lips.It dries down to a totally matte finish in less than 2 minutes. On me the application went better when I used a lip liner as a base and worked better when I layered the color 2 or 3 times. Even though it has excellent pigmentation, applied on its own without a base, tended to look a bit streaky. Once it dries down it really emphasizes lip lines and cracks a bit everytime I smile.
The formula is not so liquidy compared to other liquid lipsticks, it's a bit creamy and mousse-like and doesn't run on the lips. I like the pigmentation and the fact that they deliver that 100% true matte finish but that has downsides as well. It's not so transfer resistant as I would have expected so everytime I drink something I get a slight transfer. I will admit a lot of the color makes it through a couple of drinks and I need only minor touch-ups, but after I have a meal it kind of flakes off in chunks…especially if you are eating something oily. Whenever I go out I have to keep this liquid lipstick in my purse just in case I need to retouch my lip color.
The color appears a bit streaky during the application and I don't like how fast it sinks into lip lines and emphasizes them. This kind of liquid lipstick formula is definitely a no for me during the cold season when my lips suck up moisture so fast. I got around six hours wear with this one and overall I had a moderately feeling of dryness. I can't say it was comfortable wearing this kind of formula but it wasn't that much drying comparing to other matte lipsticks. The formula is vanilla-scented.
Enjoy more photos…