Hello beauties!
Photos from the new collaboration between MAC Cosmetics and Nicki Minaj have just been leaked. I guess is more like a sneak peek at this point but I'll definitely return with more info in the upcoming days. If nude shades are your thing then you are going to be in for a treat. Nicki shot the ad campaign photos months ago but as you can see from her makeup look, she's more into natural colors this time. I'd love me some new pink, bright shades like she did for MAC Viva Glam but this collection is not about that.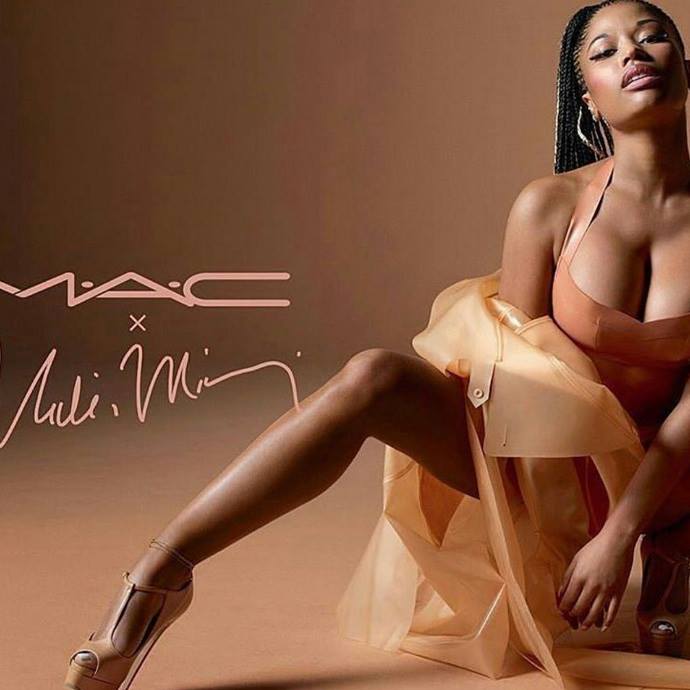 Nicki Minaj dominates fan's hearts and hip-hop charts with her bravado and razor-sharp rhymes. Now, the queen conquers with her custom-designed nude lipsticks for M∙A∙C. Get cheeky and take charge with Nicki's two suggestive shades in Nicki's Nude and The Pinkprint. Need even more au naturel? Strip down to bare, brazen basics in a lineup of 24 additional Lipstick and Lipglass colours.
Availability
U.S. Launch Date – 21 September 2017 at MAC Cosmetics
UK Launch Date – 1 September 2017 at MAC Cosmetics UK, Selfridges, Harrods
MAC Nicki Minaj Fall 2017 Collection
We will be looking at two nude lipsticks created by Nick Minaj along with two lip glosses. The lipstick shades have been unveiled in the photo bellow but no hints on the lip gloss colors. The rumor has it that is going to be an entire nude makeup collection featuring six lip glosses with a new shades, two MAC Amplified Lipsticks (photo) and 18 lipsticks in new and repromote shades.
I like what I'm hearing and hopefully the rumors are true as I can't wait for a nude collection. How about throwing in an eyeshadow palette as well? Would you like that?
UPDATE
I guess the rumors are true and I couldn't be happier. While the first part of this collection will be released next month, the second part will be launching in 2018. I've already seen swatches on Instagram and there's a harmony of nude shades coming up. Brace yourselves! I'm talking about light, pink tone nudes, dark browns, cool and warm tones so you are in for a treat.
Nicki Minaj Lipstick – Limited Edition – $17.50 / €21.00
Nicki's Nude – soft corally pink (Amplified)
The Pinkprint – mid-tone creamy pink (Amplified)
Lipstick – $17.50 / €21.00
Pretty Please – pale pink pearl (lustre) (permanent)
Gossamer Wing – dirty beige with gold pearl (lustre)
2N – creamy light pink (lustre)
Playing Koi – pale clean pink nude (satin)
Crème d'Nude – pale muted peach beige (cremesheen) (permanent)
Japanese Maple – frosted light beige (cremesheen) (permanent)
Bare Bling – light peachy nude (amplified)
Stripped – light, dirty peachy beige (matte)
The Right Note – warm sandy nude (cremesheen)
A Girl's Got Needs – warm-toned yellow brown (matte)
Patisserie – sheer creamy neutral pink (lustre) (permanent)
Mmmmmm – dirty rose nude (amplified)
Bosom Friend – sheer pinky nude with fine pearl (cremesheen)
Baby's All Right – cool-toned neutral pink (matte)
Age/Sex/Location – dirty mid-tone nude (matte)
Easy Babe – dirty latte brown (matte)
Derrière – dirty mid-tone yellow brown (matte)
Among the Fireflies – soft mocha (cremesheen)
Lipglass – $17.00 / €20.00
Under the Sheets – light nude with gold pearl
N-U-D-E – sheer pinky nude
Please Me – muted rosy tinted pink (permanent)
Beaux – warm brown (permanent)
Spice – mid-tone neutral nude (permanent)
Spite – muted plum taupe brown (permanent)
Lip Pencil – Permanent – $17.50 / €18.00
Naked Liner – light neutral
Spice – pink cinnamon stick
Stripdown – creamy brown beige
Boldly Bare – dirty red brown
Soar – mid-tone pinkish brown
Hover – rich caramel brown
Cork – muted gold brown
Whirl – dirty rose