Hello beauties!
MAC Grand Illusion Glossy Liquid Lipcolour is a new collection of 14 holographic lip colors packed with iridescent pearls and megawatt colour. You have to see swatches of these hot shades right here to understand the hype that is currently going surrounding these lip colors.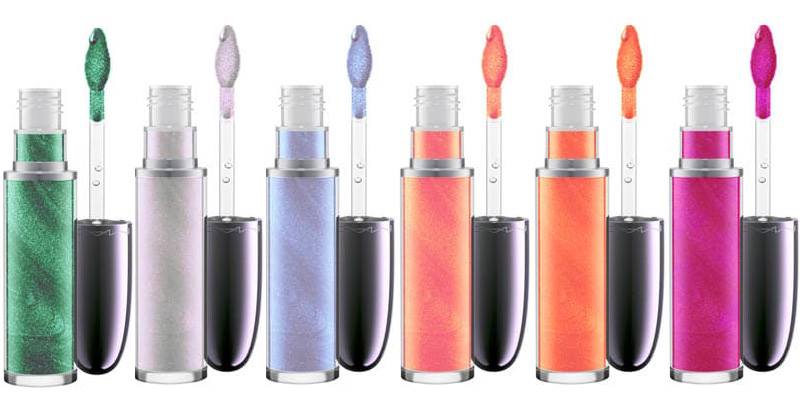 Availability
U.S. Launch Date – Now at @maccosmetics.com for MAC Select & Pro Members | 9 November 2017 for Everyone Else
UK Launch Date – Early 2018 at Selfridges, Harrods
MAC Grand Illusion Glossy Liquid Lipcolour for Holiday 2017
A mirage of megawatt color comes alive on your lips with Grand Illusion Glossy Liquid Lipcolour. It's magnetic, it's hypnotic! Swipe on futuristic sheen with this exclusive holographic lip color packed with iridescent pearls, then be transfixed by the refreshing cooling sensation that makes lips feel instantly fuller. No special fx required! For a magical look so real, it's surreal.
Shades:
Broken Halo – Silver with multi-color iridescence. PAIR with PLUM Lip Pencil
Electric Rainbow – Opalescent pink and multi gold pearl. PAIR with FRUIT COCKTAIL Lip Pencil
Florescence – Electric yellow with pink iridescence. PAIR with CHICORY Lip Pencil
Gilded Age – Illuminiscent bronze gold. PAIR with CORK Lip Pencil
Let's Rock – Coppered orange with green and yellow iridescence. PAIR with RUBY WOO Lip Pencil
Lunar Module – Pale Blue iridescent pearl. PAIR with PLUM Lip Pencil
Peace, Love, Unity, Respect – Green with iridescent pearl. PAIR with CEHSTNUT Lip Pencil
Pearly Girl – Cool pink with red and gold iridescence. PAIR with BEET Lip Pencil
Pink Trip – Bright pink with blue iridescence. PAIR with MAGENTA Lip Pencil
Queen's Violet – Royal purple with blue and pink iridecense. PAIR with NIGHTMOTH Lip Pencil
Rave Bunny – Bubblegum pink with electric blue iridescence. PAIR with HIP 'N' HAPPY Lip Pencil
Sensory Overload – Blackened deep purple with shimmering iridescence. PAIR with CORK Lip Pencil
Space Bubble – Blackberry Red with red iridescence. PAIR with NIGHTING GALE Lip Pencil
Twinkle Twink – Coral with gold pearl. PAIR with LASTING SENSATION Lip Pencil
SHOP THIS POST