Hello pretties!
Just as promised, I'm back with another review of one of the new four liquid lipstick shades from MAC Kabuki Magic Collection (info, photos) that I was telling you about yesterday. Today is all about MAC Flamingo Road Retro Matte Lipcolour, a crazy and vibrant shade which I've been wearing a couple of times last season. I'm quite familiar with MAC Retro Matte Lipcolour formula and the true matte finish, but I can't really say I'm feeling comfortable with that dryness sensation on my lips.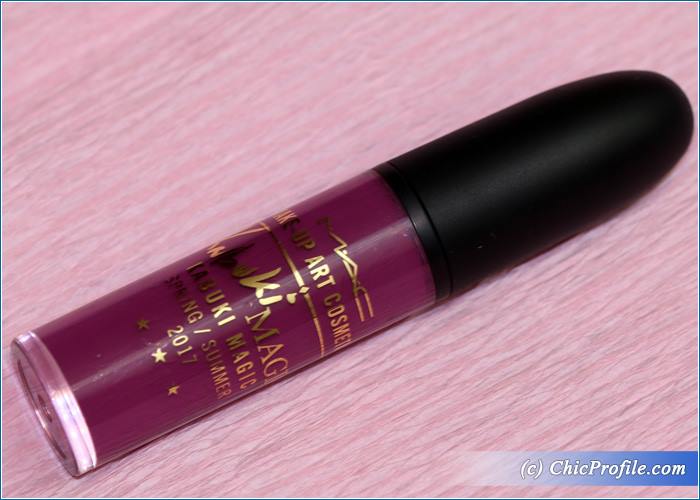 Availability
U.S. Launch Date – 19 January 2017 online @maccosmetics and select MAC Locations
MAC Flamingo Road Retro Matte Lipcolour ( $21.00 U.S. / $25.00 CAD) is officially described as purplish magenta with a matte finish. It's a medium-deep purple-magenta with cool undertones and a straight matte finish.
It's a bold and vibrant color, very pigmented and rich so it's definitely not for those who are color shy. It applies fairly well on the lips but that is over a lip liner base so it will glide on more smoothly and evenly. If you try to only line your lips and then apply this color it will look uneven and patchy, so you'll definitely need a base. It adheres well onto the lips and dries down very quickly to a matte finish.
The consistency is creamy, but doesn't feel that lightweight on the lips. I personally like the burst of color and how intense it comes on the lips, even though I have a light skin tone and sometimes it may appear as too much color. After it dries down it tends to emphasize lip lines and after two hours or so the dryness sensation starts to settle in. That's my true problem with matte finish lip colors and always have been…I just don't like when the formula settles into my lip lines and the more I keep the color on my lips the more I feel like it's sucking out the moisture and they look so dry. I did moisturize my lips very well before applying this color but now that the winter is here and outside is snowing I will definitely not go for it again. Matte lip colors are not for winter season, at least for me as I need as much hydration as possible.
I did like that the formula is quite long lasting and it wore off almost after 6-7 hours wear but it does transfer on glass whenever I drink. After I had a meal, I was happy to see that I still had a decent amount of color left on my lips and I didn't need it to reapply. So if you don't mind the dryness then I'd definitely say go for this color.
Enjoy more photos…